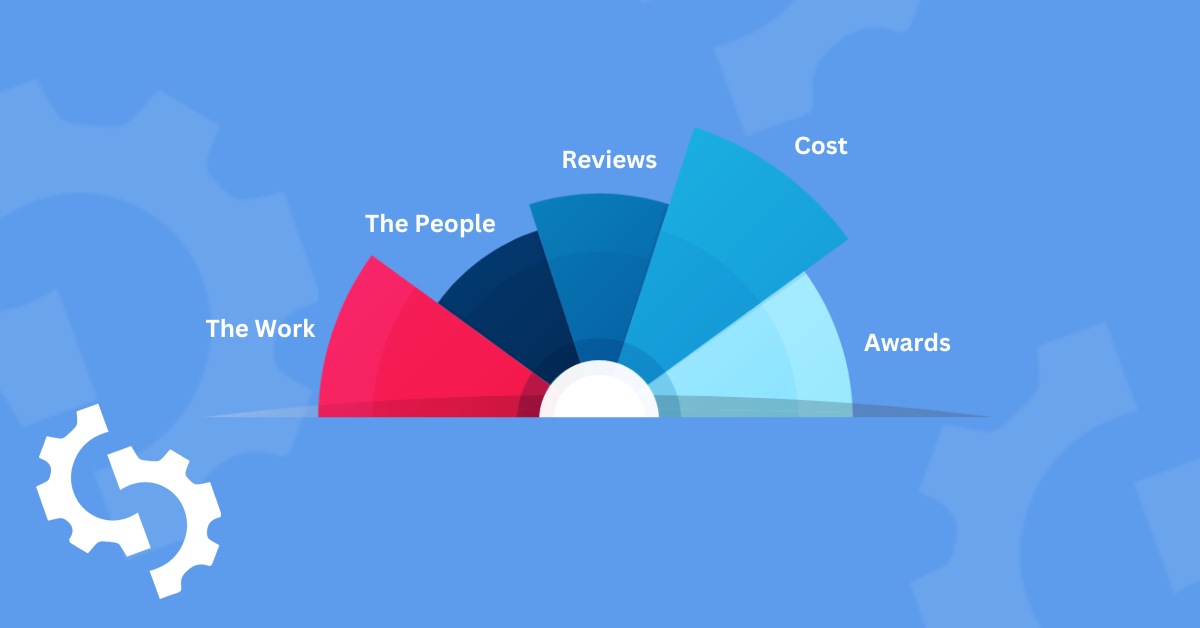 Hiring a marketing agency is one of the best things you can do to accelerate your business growth and hit new milestones. But finding the right agency is a battle because there are so many of them - nearly 70,000 agencies worldwide and over 25,000 agencies in the United States alone (according to Clutch).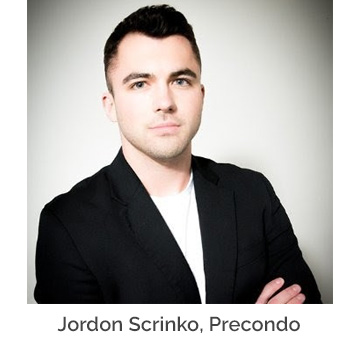 Jordon Scrinko is the Founder and Marketing Director of Precondo, a Canadian property research site and has outsourced marketing duties to agencies in the past.
Jordon's recommendation for finding the best marketing agency comes down to one simple task that surprisingly not enough organizations perform:
"The important thing is to thoroughly research the market before hiring a marketing agency in order to find the best agency in your niche."
Marketing agencies are a core customer of SEOptimer. Over 2,000 agencies rely on our White Label Reports and Embeddable Audit Tool to automate their reporting and power their agency lead generation. Aside from this, we know that many brand-side marketers use SEOptimer too. Their use cases are similar such as identifying SEO issues on their site, crawling whole websites, tracking their rankings on search engines and performing keyword research.
In this article we wanted to help these brand-side marketers, especially those who are thinking about or in the process of hiring a marketing agency. We'll outline the key factors and considerations to help make the process easier and ensure you have all bases covered. Hiring a digital agency is an exciting journey and one that has the potential to completely transform an organization.
The Work
Legendary global ad agency BBDO's mantra is The Work, The Work, The Work.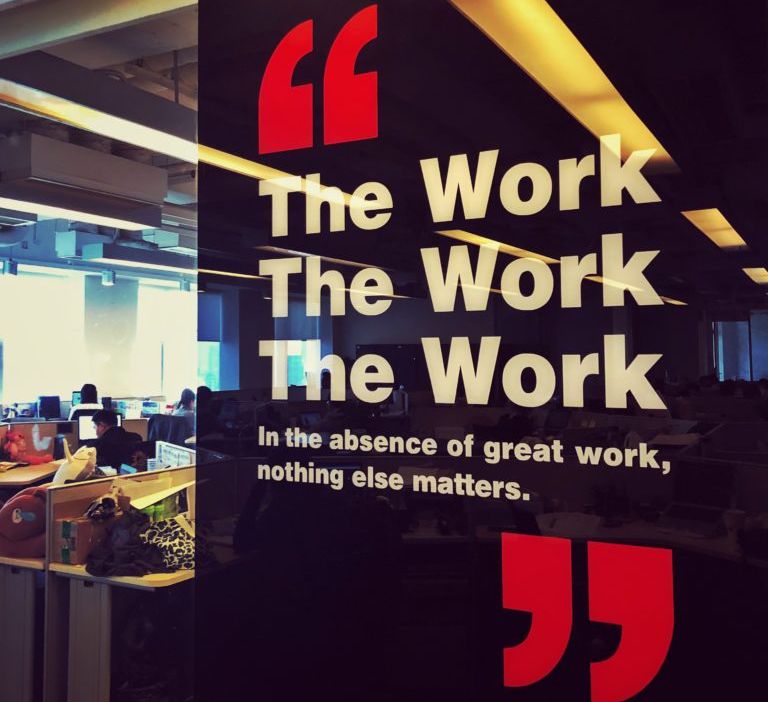 By and large, agencies are hired by organizations to deliver outstanding work which in turn delivers tangible business outcomes (eg: awareness, traffic, leads, sales, revenue, etc).
This is the single most important aspect of hiring the right digital agency: finding an agency with a proven history of delivering high quality, effective work. If you had to choose just one selection criteria, this would be it. But of course, hiring a digital agency is a bit more complicated than that!
Getting an understanding of the quality of the work can be tricky and subjective. But there's two main sources to investigate:
Review previous work
Spend adequate time researching agency websites by reading their case studies, checking their portfolios, blog posts, social media posts, industry articles, ads, etc. Digital agencies should be proud of their client work so if you can't easily find examples of previous work from an agency, that is a big red flag.
Because staff churn is quite high in the agency world, you should also look for previous work or request portfolios that creatives or strategists produced at previous agencies. In fact, when agencies themselves are hiring staff, it's this previous work that serves as the best barometer of talent: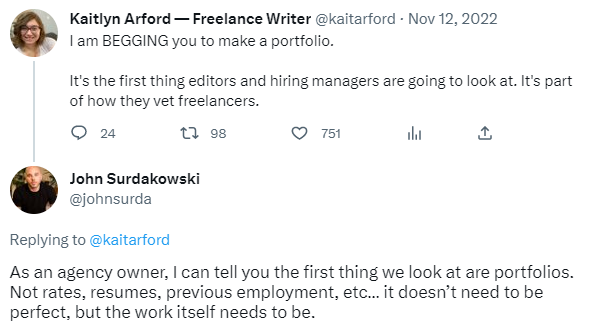 Talk to previous clients
You should also conduct your own research to find work the agency has done that might not be front and center on their portfolio. Look through their client list on their website, check agency review sites and run simple Google searches for announcements and industry news. Reach out to their previous clients and talk to them to get first-hand feedback. The key question to ask previous clients is: 'would you work with the agency again?'
The People
The ability for an agency to deliver outstanding work comes down to the quality of the individuals that make up that agency. You can get an indication for how experienced the people are by talking with them or listening to them pitch but aside from just their overall knowledge of digital marketing there are other aspects to keep in mind. Consider the following questions:
Is it clear that they genuinely understand and care about your business?
Anyone can tell you they understand your business but it's your job to interrogate that. Do they empathize with your challenges and share the same enthusiasm for achieving your goals?

This can be determined through conversations - even an initial consultation can shed light on how they respond to the following situations:
Do they ask you the right questions to tease out details that help them understand your priorities?
Do they build logically on the conversation and through this, display intelligence and understanding for the stage of your business and what you need next?
Do they relate to your challenges and showcase how they've overcome similar challenges for other clients?
Do they accept that they might not have all the answers immediately but can explain how they'll find the answers to all your questions?
Do they listen to you?
Digital agencies are common environments for extroverted personalities. If you are more of an introvert, you might find an initial conversation with an agency overwhelming especially if big personality types are present in the meeting. Despite this, try to determine how much they listen to you and if they change their persona to better match your personality traits.
Some agencies have formulaic new business processes and don't divert too far from their rehearsed script. This would be a red flag if you feel they aren't able to adapt or adjust to new information you're giving them or posing questions outside of a typical digital marketing scope.
Can you determine what motivates them?
Throughout your conversations, it should be clear to you what motivates the people you meet with. If they are quick to talk about awards or industry recognition, it might be a indicator that their priorities are about client work enabling agency awards. Ensure you get to the bottom of their motivations and what drives them to do the work you are asking them to do.
Are you speaking with BDMs or practitioners?
Many agencies employ BDMs (Business Development Managers), essentially sales people who aren't actually marketers but just professional dealmakers. In some cases, BDMs aren't even employed by the agency and just work freelance in continual new business mode taking a cut of the deal. Make sure you meet the people who will actually be doing the work and who you'll be communicating with on a day-to-day basis.

Are they just telling you what you want to hear?
Are they just a bit too slick? Sometimes agency pitches are overly optimistic, they promise the world and everything sounds too good to be true.
The best discussions are the ones where both parties are realistic about the challenges and expectations are made about how things will evolve over time. Gaining clarity on anticipated results in month one, month two and so on will help you uncover their longer-term thinking too.
Results usually don't happen overnight in digital marketing. Sure, some initiatives can yield fast results but making sure there's a consistent reality-check on expected results is important.
Would you happily go out to lunch with them or have a drink together?
Some clients judge their agency relationships on more of a personal level and whether they are socially compatible. One can argue this is perhaps a lingering trend from the 20th century that might be wanning these days in the world of remote work, global collaboration and automation.
However its important for some clients to have great interpersonal relationships with their agency partners. Connecting across common (non-work) interests such as sport, hobbies or travel can help deepen relationships and ultimately build trust. Your agency partners will likely be looking for these entry-points so just be aware of this and try to objectively judge their intentions and sincerity.
Agency Reviews
Agency review sites are a great way to gauge the history and track record of a digital agency before you hire them. Look closely at reviews written by similar organizations to yours or from clients who had similar objectives. If you can find client reviews that validate an agency can deliver on similar business objectives, that is a good sign to shortlist them.
Some popular sites for finding client reviews include: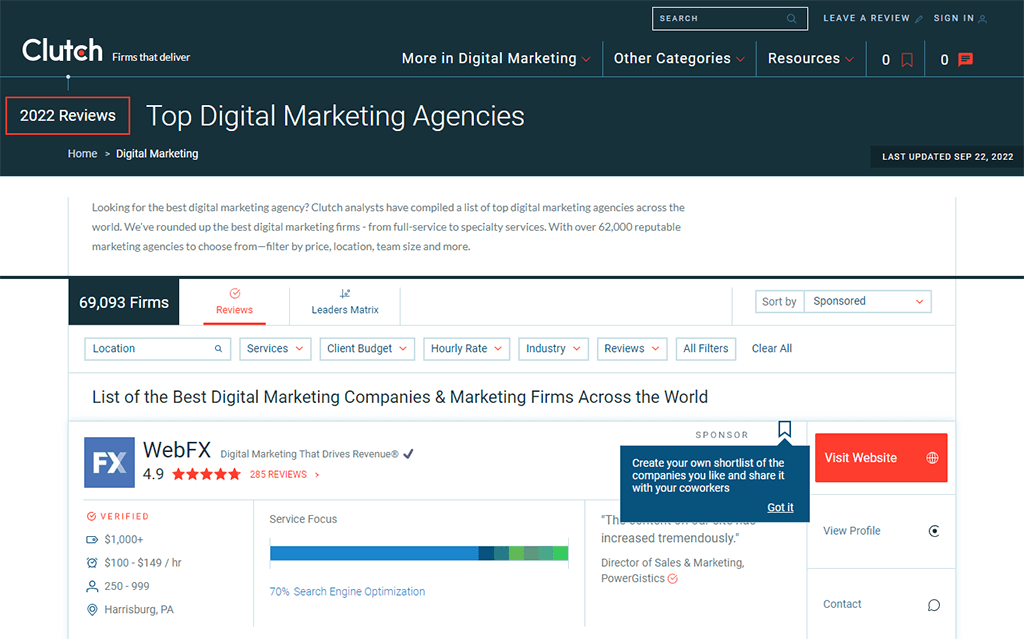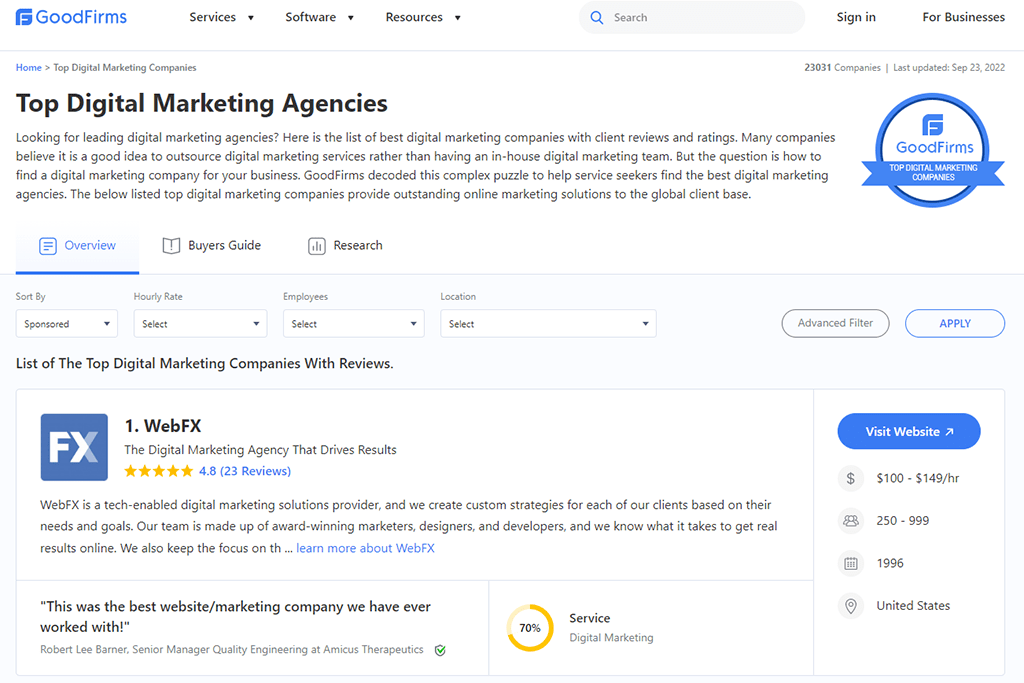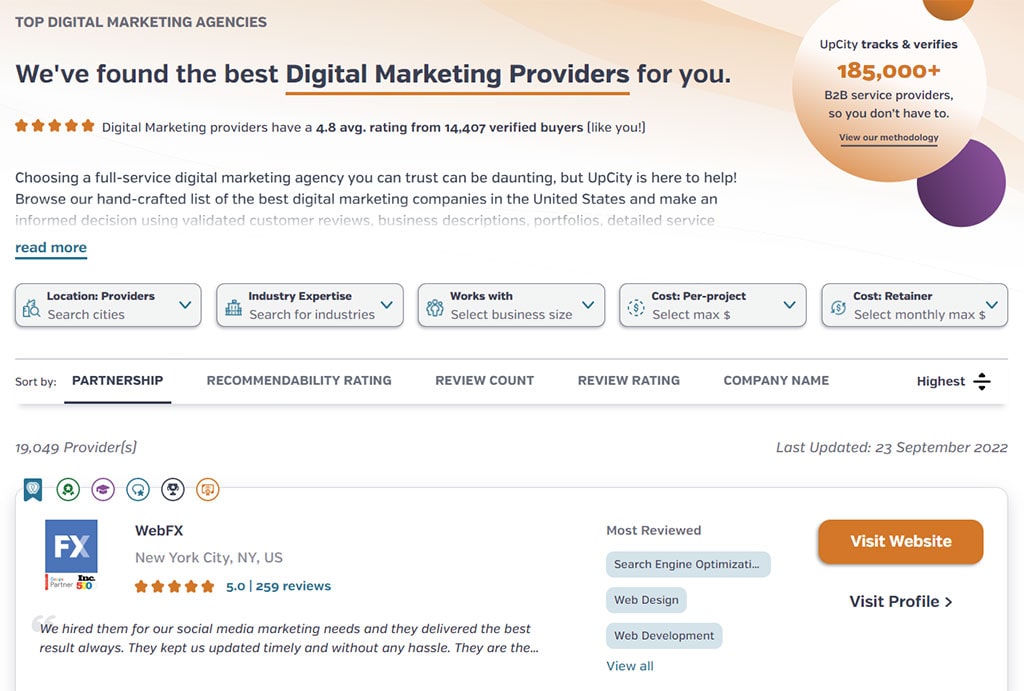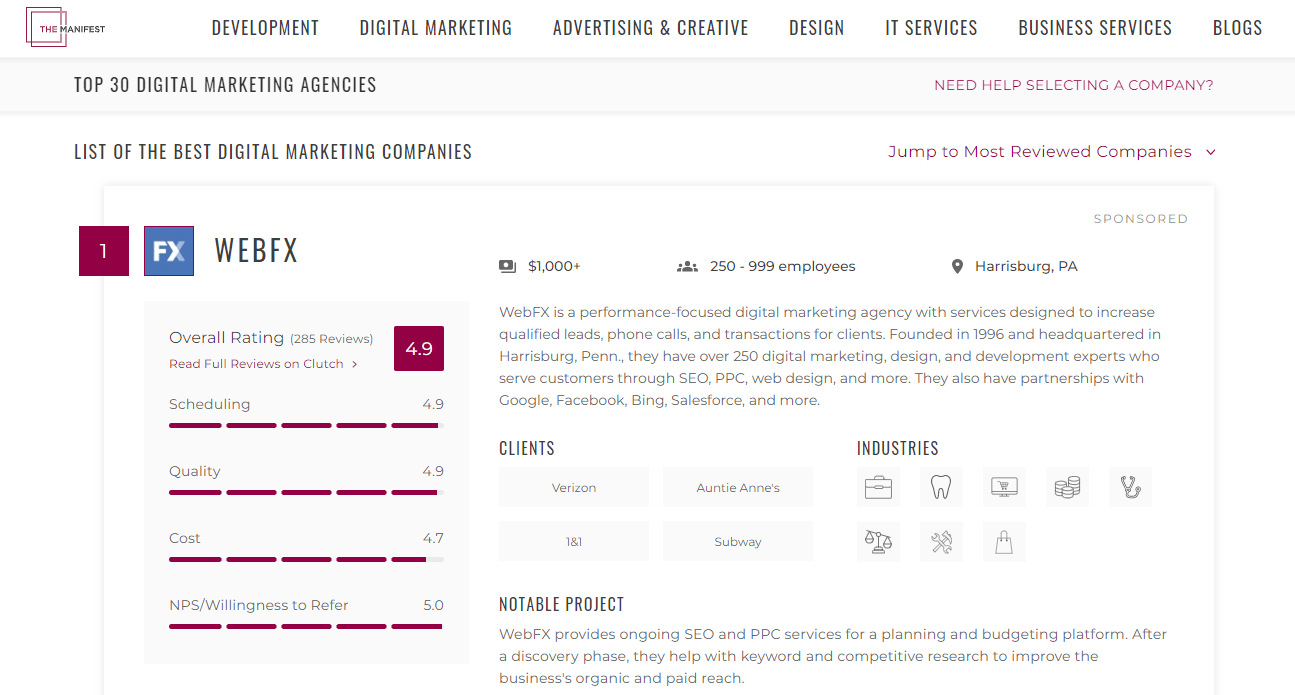 You'll notice WebFX seemingly take out the #1 digital agency spot on all 4 review sites. But when you look closer, all 4 listings are sponsored which is the default sort order for all these review sites and how they monetize their listings. So this agency is paying top dollar to be shown first on all these sites.
Keep in mind that if you want to sort the list by highest reviews, you'll need to select that option in the filter dropdowns on each site. Furthermore, you should also select the appropriate filters for location, services and/or industry, etc.
Agency Awards
Another potential research avenue is agency awards. This is contentious because some experts in the industry believe agency awards are not an accurate measure of the quality of an agency but rather a measure of how well the agency writes award applications.
The jury will remain out on this one but if you're considering awards as a guide to hiring a digital agency, we suggest you look at long-running respected awards like The Webby Awards or awards that are based on the effectiveness of the work like The Effies:
The Webby Awards were established in 1996, back in the days of dial-up internet. Run by the IADAS (International Academy of Digital Arts and Sciences), the Webbys are the leading international awards honoring excellence on the web. The Webbys are judged by a 2,000 member panel comprising leading digital marketers, business executives, visionaries and internet professionals.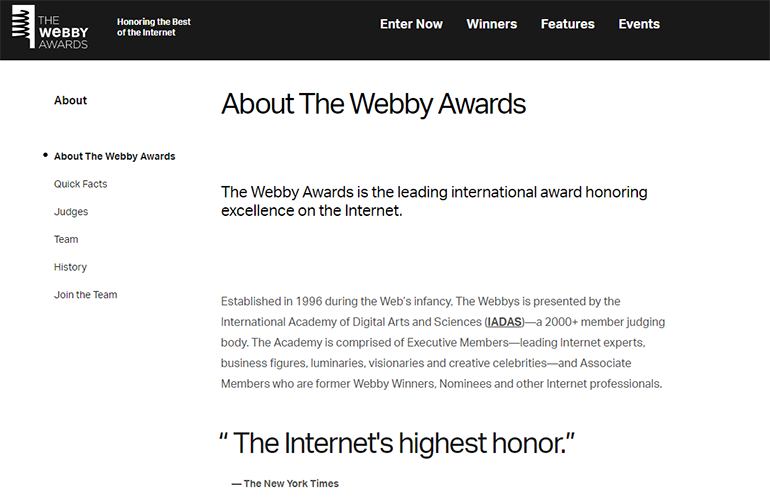 The Effies (short for effectiveness) date back to the golden era of advertising in the 1960's. Today, The Effies celebrate all forms of marketing that contribute to a brand's success. With over 50 programs worldwide, The Effies honors the agencies and individuals creating the most effective work across the globe.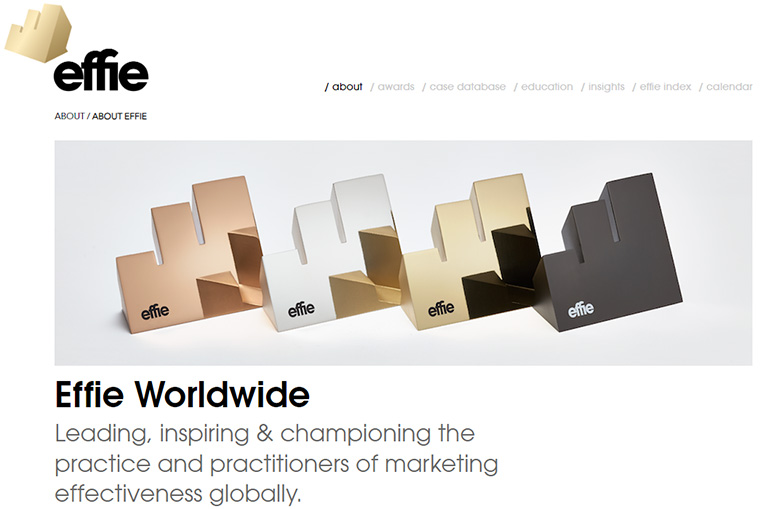 Agency awards aren't the be all and end all. Plenty of excellent agencies produce work that never wins awards so don't get too wrapped up in the frenzy around awards, just consider them another input to your decision-making process.
First Impressions
First impressions are so important. The general saying goes that humans start determining traits like trustworthiness and likability in the first seven seconds of meeting someone. Unless you're meeting an agency founder at a conference or an in-person event, your first impression of an agency will be their website, their content, a recommendation or some other digital touchpoint.
Ex-agency strategist turned brand-side marketer, David Armano believes an agency's website is key for nailing that first impression, among other aspects too: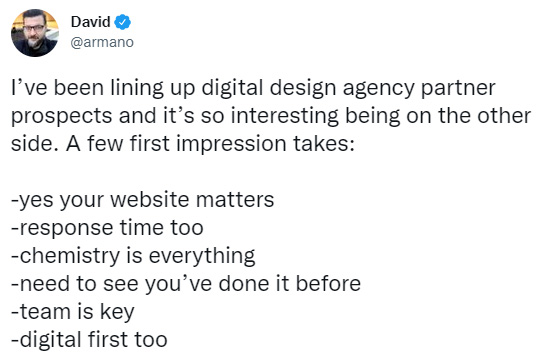 For example, hiring an SEO agency who don't rank on Google for 'seo agency' in their city would be a red flag. As would hiring a social media agency who aren't particularly engaging on the agency's social media accounts! Agencies can talk the talk but there should be clear evidence they can walk the walk when it comes to marketing their own agency.
You should trust your first impressions. If something seems off in your initial interactions, it can serve as a warning sign for what's to come. Be selective and trust your gut instincts.
The Pitch
Most digital agencies are accustomed to pitching to win new clients. Larger organizations might shortlist several agencies and invite them to pitch to a group of stakeholders in response to a campaign brief or a particular business challenge. Formal pitches like this can be quite performative with agencies putting on a well-rehearsed show for roughly an hour covering their proposed approach and why they should win the work.
In the SMB Marketing world, a formal pitch is likely to be a bit over-the-top. Instead, a simple meeting to discuss requirements and proposed solutions is usually sufficient. For smaller jobs this might just take the form of a written proposal.
As good as the pitch sounds, you never really know what its like working with a digital agency until you engage them. You also need to be clear early on about which individuals from the agency will be working with you. Sometimes people you meet during the pitch who impress you, don't actually end up working with you day-to-day.
How much does it cost to hire a Marketing Agency?
Although this shouldn't be the main deciding factor when hiring a digital agency, it is certainly a key consideration. Rather than provide pricing guidance (which is fraught) given the variances in location, scale, services and expertise, the main pricing decision is likely to be how you'll pay for your digital agency's services (ie: the method the agency uses to bill you):
Monthly Retainer
This is the default billing option for many digital agencies in market because it provides them with a steady predictable revenue source for ongoing work. However retainers are becoming less prevalent these days because many clients have in-house capabilities and tend to lean on their agency partners for ad-hoc project work.
If you have a set number of tasks that need to be completed on a regular occurrence and don't have the internal resource to execute it, this is where a monthly retainer can work well since it's easy to budget for and will be favored by your agency partner.
Fixed Fee Project
Fixed Fee Project work is becoming more popular and likely to be how most clients work with agencies. Typically, each project has a start and end date with a list of deliverables and, as the name suggests, carries a fixed fee. This method of billing works best for campaigns, up-front strategic work, stand-alone projects or anything else of that nature.
Hourly Rate / Daily Rate
This method of billing is likely to be the highest comparable cost however is useful for projects that are open-ended or have a variable scope. One would argue that embarking on a project with a variable scope is not a good idea however sometimes it can't be avoided.
In other instances, knowing the hourly or daily rate to execute certain tasks is useful if your business has high frequency marketing tasks that occur at a variable cadence.
Other Billing Methods
Some digital agencies work on a percentage of sales revenue (known as a performance model), especially for clients in e-commerce / direct-to-consumer. Some would argue that utilizing this model aligns incentives because its in the best interests of both parties to maximize revenue or conversion.
Agencies in certain service verticals like paid search, for example, use a different method such as billing a percentage of the clients' advertising budget. In this example, it can also be quite variable which business model that search marketing agencies use, as seen below in this study from WordStream: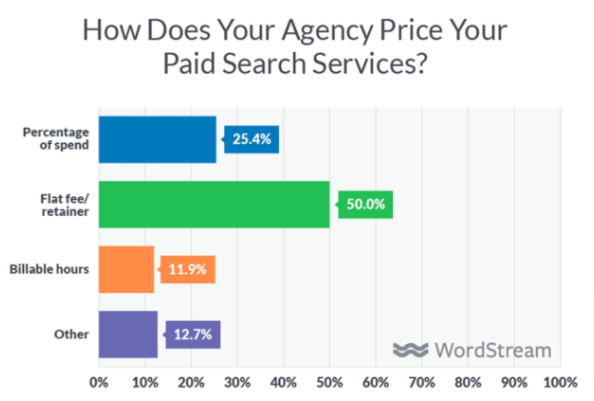 Why hire a Marketing Agency?
The main reason why organizations hire a marketing agency is to offload marketing tasks due to insufficient internal resources. There are several other reasons why organizations hire marketing agencies:
Short-term requirements like executing campaign activity or one-off projects
Hiring specialized outsourced teams to cover for talent gaps, extended leave, etc
Internal policies that set low marketing budgets but higher outsource budgets
Contractual obligations determined by headquarters or franchise businesses
Favorable cost-benefit analysis vs internal upskilling/hiring
Benefits of Hiring a Marketing Agency?
The biggest benefit of hiring a marketing agency is the ability to leverage the resources, talent and experience of the agency. However there are actually several other benefits and advantages of outsourcing your marketing functions to an agency vs executing everything in-house. Here are the top 3:
Flexibility: hiring staff is a big commitment and potentially big risk for small businesses. Whereas working with an agency on a per-project basis or daily rate provides the flexibility to scale up or down without any commitments
Speed: agencies can generally move faster than internal teams because they are experienced at executing similar tasks across clients. Especially when starting out, hiring a marketing agency is one of the fastest ways to 'get to market'
Compliment in-house talent: hiring a marketing agency that can work as an extension or alongside your in-house team is a great way to scale up and provide your in-house team with support and potentially
How to Start the Agency Hiring Process
If after reading everything above, you are ready to start the agency hiring process, here are our top 5 next steps to ensure a successful hiring experience!
1. Be Clear on your Business Objectives
If you aren't crystal clear on your business objectives, your agency will be rudderless. Worst of all, it gives your agency a free pass to communicate whichever metrics they want back to you to prove success. Before even speaking with any agency, ensure you and your stakeholders are in agreement as to what you want to achieve.

(As an aside, check out Jenny Kelemen's excellent Tweet thread about the 6 lessons she's learned when hiring and firing agencies).
2. Be Clear on your Budget and ROI Expectations
As the saying goes, don't expect champagne on a beer budget. If this is the first time to be working with a digital agency be realistic about timeframes and what kind of results can be achieved in the short term. Digital marketing can take time depending on the channels utilize in your overall marketing strategy.
3. Talk to your Peers and Research Comparable Work
Before shortlisting potential agencies, do thorough research to find other organizations who have achieved what you want to achieve. Get to know what they did and how they communicate and market themselves. Speak to others in your industry or even speak with non-competitive businesses about how they engage agencies and what works for them.
4. Create a Shortlist of Digital Agencies
Compile a shortlist of a few digital agencies - usually between 3-5 is a good number. From your initial research, reach out to each one and pay close attention to the first few interactions you have. Depending on the agency, usually their first action is to schedule a 'discovery call' with you to fact-find about your business and your objectives (hopefully!) so they can come back to you with a proposal.
5. Test the Working Relationship
Before embarking on a large piece of work (such as a website rebuild or devising a new digital marketing strategy), consider testing the relationship first by carving off a smaller piece of work as a bespoke project with its own budget as a way to gauge the working relationship before committing long term.
6. Enjoy the Ride!
Finding an agency partner that you genuinely enjoy working with is a great outcome and it can be transformative for your business. We wish you every success in finding and working with a digital agency partner. Let us know what you think on Twitter, we'd love to hear from you!