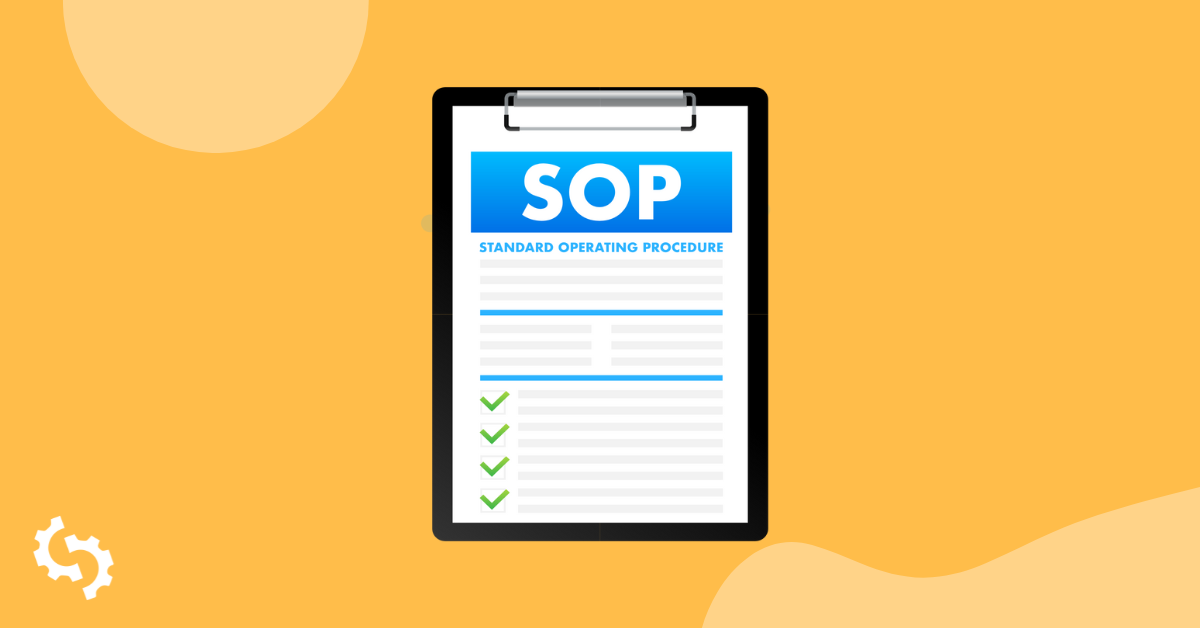 Developing an SEO SOP (Standard Operating Procedure) is crucial if you want to scale your website's organic traffic and rankings.
Companies implement and follow standard operating procedures to finish simple and repeatable tasks at a faster rate, while still maintaining the same or even better quality of work.
SOPs can be implemented in the field of SEO since many of the tasks are easy to replicate and outsource.
In this article, you will learn about all the elements of a successful and effective SEO SOP, we'll also share 6 SEO Standard Operating Procedures that you need to implement if you want to scale your content generation and improve search engine rankings.
What is an SEO SOP?
Standard Operating Procedures are a set of steps, often outlined in a document, that you follow in order to complete a specific task. An SOP usually includes screenshots or video demonstrations of the exact steps you need to follow to complete the intended task.
An SEO SOP outlines the exact steps you need to follow when completing tasks such as searching for keyword opportunities, content creation, link-building, etc.
For instance, when writing blog content, simple tasks such as adding meta descriptions, compressing on-site images, and adding internal links can be documented in an SOP.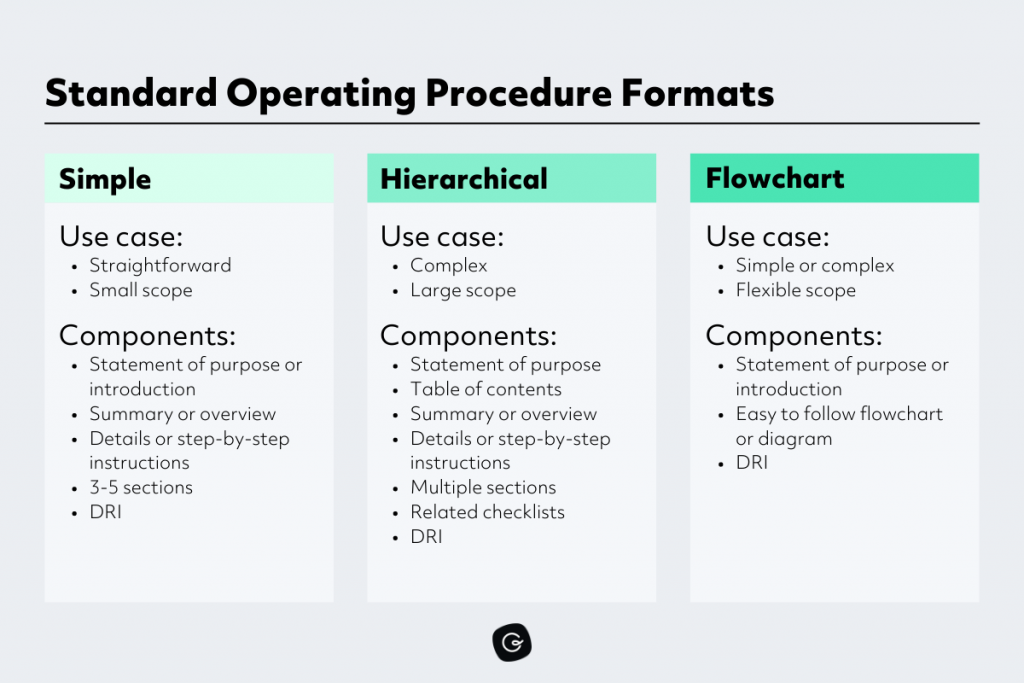 Image source: Guru
Why Use an SEO SOP?
Creating SEO SOPs may require some time, however, the benefits far outweigh the time commitment it takes to create them.
Here's why you should use an SEO SOP in your business or digital agency:
You can hire a low-cost employee to complete the tasks that you set out in the SOP. Alternatively, you can delegate these tasks to a member of your team that has more free time available.

Since SOPs make it possible to outsource repetitive tasks, you will have more time to spend on scaling your business, thinking of new products or services, and assisting customers.

It eliminates the possibility of skipping important steps in the SEO process such as ensuring that all the relevant meta tags have been optimized according to SEO best practices, or images have been compressed.
Now, let's discuss some of the key elements of an effective SEO SOP.
What are the Elements of a Successful SEO SOP?
You might think that drawing up an SEO SOP only involves writing down the steps you take to finish a task. However, all successful SEO SOPs contain specific elements that make them useful to businesses and teams.
Here are three of the most important elements of an effective SEO SOP:
It is written in understandable language, free from industry jargon. Since anyone should be able to follow the steps you outline in your SEO SOP, it should be easy to follow along. This is especially important if you're thinking of

hiring a freelancer

from a non-English-speaking country or getting someone that doesn't know all the SEO terminology to complete the tasks outlined in the document.

All SOPs have a section that discusses the purpose of the document. This is so that whoever reads the document or completes the task will have a clear understanding of the scope of work and what the end goal looks like.

It should include visual media to show concepts. Adding visual media such as images and videos to your SEO SOPs will make it easier to understand and follow.
Important SEO SOPs You Should Use
Now that you know what an SEO SOP is, and the benefits of using one, let's take a closer look at the different SEO SOPs that you should use in your business.
These SEO SOPs can be used by digital agencies and business owners to scale their content creation and SEO operations.
Keyword Research SOP
One of the most important and common tasks associated with optimizing a website or your GMB profile for search engines is keyword research, in fact, it forms the foundation of most online marketing and SEO strategies.
Because of the repetitive nature of this task, the steps involved in the keyword research process can easily be summarized in an SEO SOP format.
Keyword research forms the basis of your SEO efforts. For this reason, your keyword research SOP should very clearly outline the entire process from beginning to end.
A good keyword research SOP includes the following:
Preparing an Excel or Google Sheets document to document keywords, search volume, and ranking difficulty.

Analyzing your competitor's top-ranking keywords.

Finding low competition, high search volume keywords to target.

Preparing a list of discussion points for the content your want to create.

How to use the

keyword research tool

your business is using to find keyword opportunities.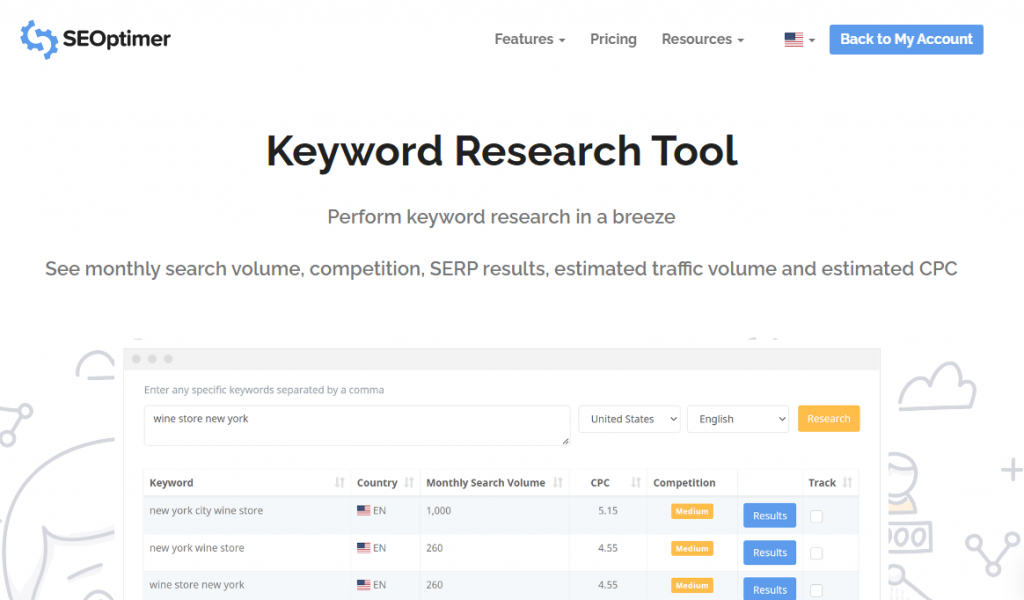 Blog and Content Creation SOP
Blog and content creation plays a key role in the success of any SEO campaign. Without any content, your website won't be able to generate traffic or backlinks.
By creating an SOP for content and blog creation you'll be able to scale your content generation efforts.
Luckily, this process can easily be documented in an SOP for your team.
A typical SOP for blog and content creation will include the following:
Creating a final blog article outline based on keyword research

Writing the draft of the article

Sending it for approval

Uploading the final draft to CMS

Creating the article feature image

Finding and inserting images in the blog content

Compressing images that are too big

Adding a meta description to the article

Publishing the article
Link Building SOP
Backlinks are one of the most critical Google ranking factors. For this reason, you need to have a solid link building strategy.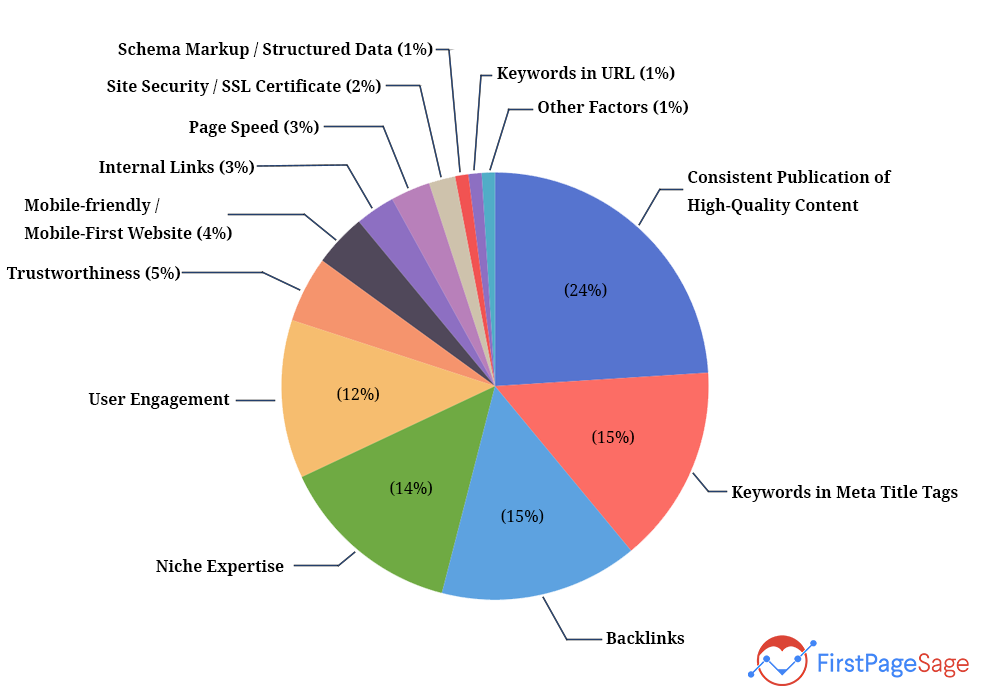 Image source: FirstPageSage
Link building involves a lot of repetitive steps, from finding link prospects to creating email outreach. Because of its repetitive nature, you can easily outline the steps involved with link building in an SOP document.
And if you don't outsource your link building, then a link building SOP will help staff members to execute the process properly.
Here are the steps that should be included in an SEO SOP for link-building:
Deciding on which URLs to build links to. (Ideally, build links to the most important pages and/or high-converting URLs)

Identifying link-outreach prospects.

Finding the contact information for link-outreach prospects.

Writing emails for-link outreach.

Monitoring link-outreach results.
On-Page SEO SOP
On-page SEO is the process of optimizing the on-page elements of a web page in order to help search engines understand the page content.
Running on-page checks can be documented in an SOP. This SEO SOP will include the following:
Checking that the target keyword is added to the URL, page title, alt tags, and meta description.

Adding the target keyword and its variations to the

H2 and H3 header tags

.

Ensuring that the target keyword is used throughout the content.

Ensuring that the content satisfies search intent thoroughly.

Optimizing the core discussion point of the article to rank for featured snippets.
SOP for Internal Linking
Internal linking is the process of adding relevant links from one page to another page of your website, hence the word "internal".
Adding internal links from one page to another helps Google understand what your content and the entire website are about. It can also keep users on your website for a longer period of time if the internal links you add pique their interest.
Proper internal linking isn't rocket science and can be done by almost anyone. For this reason, it's the ideal task to create an SEO SOP on.
Your SOP for internal linking should include the following:
How to find relevant internal links. A simple way to do this is by conducting a Google search with the following parameters

site:domain.com "relevant keyword"

. So if we wanted to add an internal link to our article about "header tags", we can use the following search in Google to find a relevant article

site:seoptimer.com "header tags"

.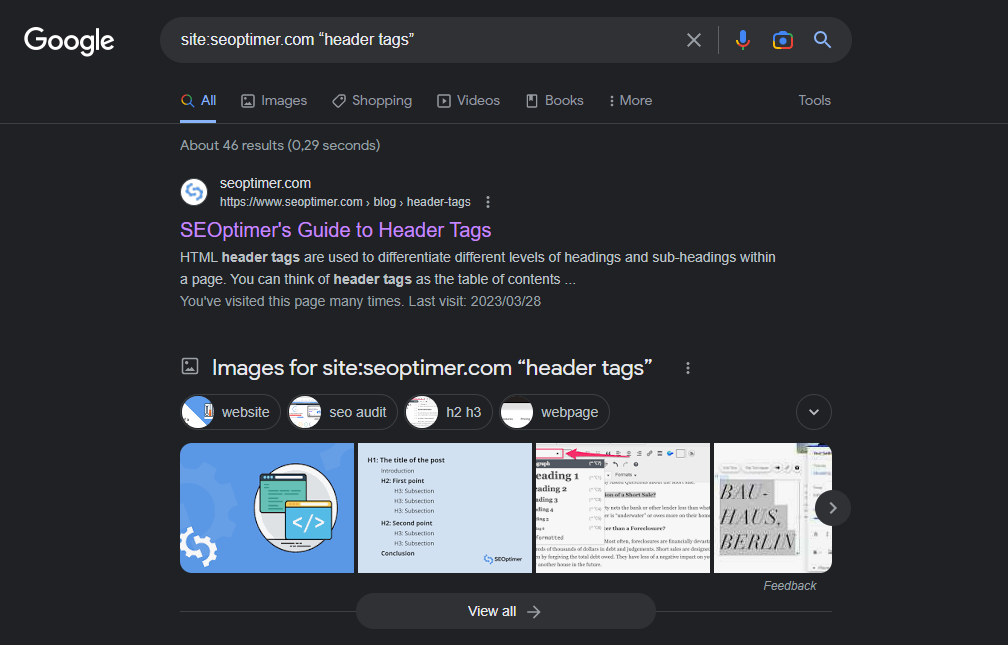 How to add internal links using your CMS. Make sure that you set it so that it opens the link in a new tab.

How many internal links you should add to an article. You'd want to avoid adding too many internal links (or external links), as this will distract the reader. According to

Neil Patel

, the optimum number of internal links varies between 5 to 10 links for every 2,000 words.
Keyword Tracking SOP
The last SEO SOP that is essential to scaling your operations is checking your keyword rankings on a regular basis. Doing this will give you insights into whether your SEO activities are actually yielding results.
You can do this manually, although this will take a lot of time and effort, or you can just simply use a keyword tracking tool to help you with this task.
Local business owners can also use a dedicated local rank tracker to see how their local rankings are performing at regular intervals.
In the keyword tracking SOP, you can outline the intervals (daily, weekly, or monthly) to check keyword rankings, the steps that need to be taken to manually check these keyword rankings or by using a paid tool, and how to extract these rankings to present them in a report format.
Conclusion
Creating your own SEO SOPs isn't a complicated task, simply document all the steps that you are currently taking to complete relevant tasks.
You will find that implementing the SEO SOPs that we mentioned in this article will help you grow your organic traffic, while at the same time, giving you more time to focus on other areas of your business.