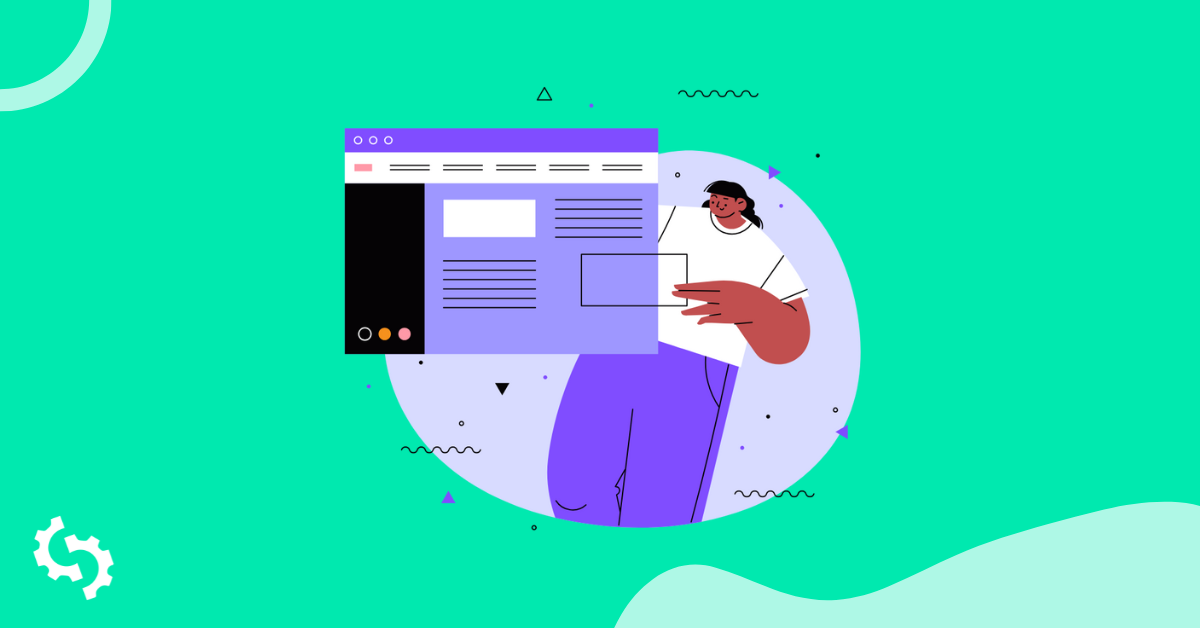 What is a Meta Description?
A meta description is an HTML tag that specifies and summarizes the content of the page. The meta description is located in the head section of the HTML.
A page's meta description is not visible on the page itself, so you won't be able to see it with the naked eye. However, search engines are able to identify them by checking for the following HTML code:
<META NAME="Description" CONTENT="informative description here">
Once search engines identify your meta description, it displays it as a snippet in the search results. 
For example:
How to View Any Page's Meta Description
Although one can't see the meta description on the page itself, you can view it by examining the page's source code using your web browser. 
To view a page's meta description follow these steps:
View the page's source code by right clicking anywhere on the page and then clicking the "

View page source

" option.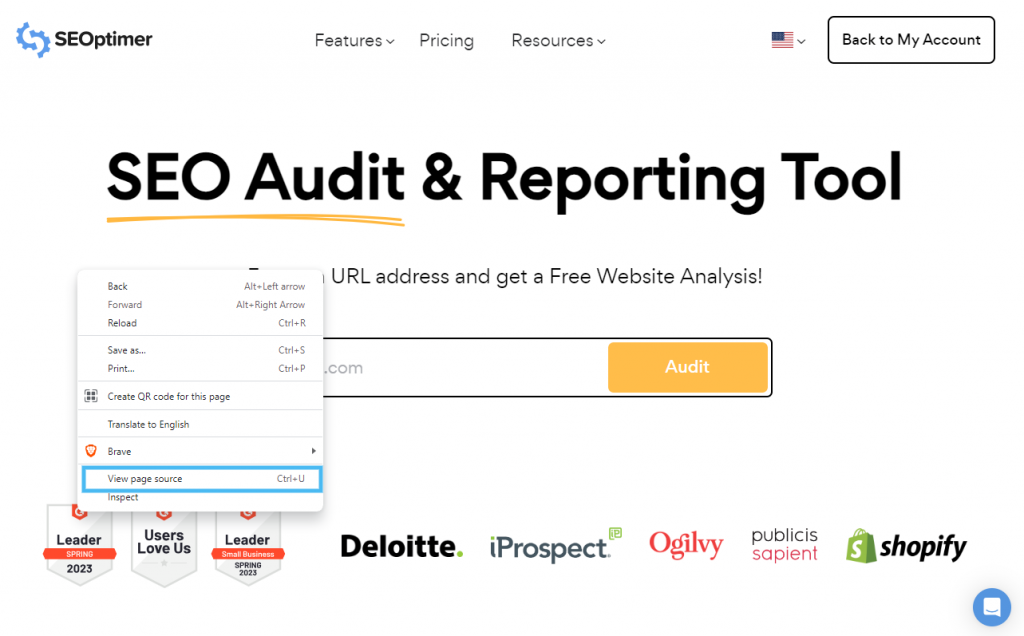 Click

Ctrl + F

to open up the browser's search bar.

Type "

Description

" in the search bar. You'll see that the meta description is one of the highlighted options. 
Why are Meta Descriptions Important?
Meta descriptions are important because search engines use them as snippets of what your page is about in their search results. 
A page title may be a few words, but with the meta description tag, you're able to add a short sentence or paragraph providing more context to users.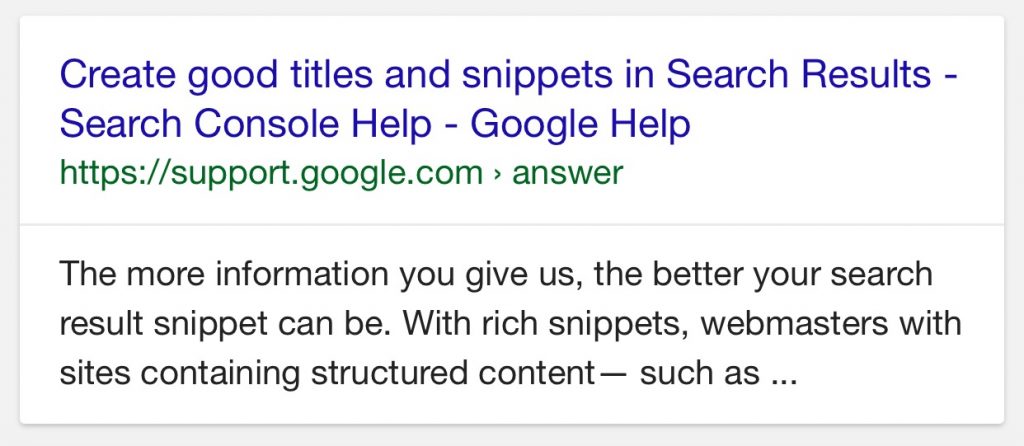 The more accurately you describe the page's content and the more relevant a result snippet is, the more likely people are to click on your page.
Additionally, other platforms like Facebook and Twitter use meta descriptions when users share direct links to pages. 
For instance, here you can see that Facebook uses a section of the page's meta description in the Facebook post: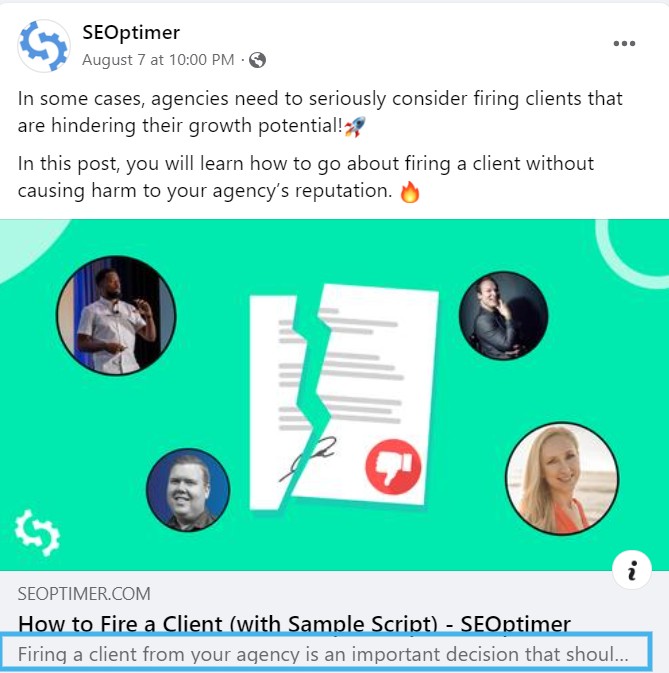 How to Write Good Meta Descriptions
Here are some best practices to use when creating meta descriptions to help you create the high-quality meta description search engines and searchers alike want to see.
Write Meta Descriptions that are Easy to Comprehend
Meta descriptions are intended to tell readers what they can expect to find on the page by clicking on its search engine result. 
Therefore, a good meta description should be easy to comprehend and help users visualize and find exactly what they are looking for. 
An active, consistent voice should be maintained with language that persuades users to take the next step by clicking on your result. 
Try to add the tone of your brand or company to resonate better with your audience.
Add the Target Keyword to the Start of the Meta Description
Always include the page's target keyword in the meta description, preferably, as close to the beginning of the meta description as possible.

To avoid keyword stuffing your meta descriptions, try to add a long-tail variant closer to the end of the meta description to give it some variety. 
Pro tip: If you need some inspiration for your meta descriptions, you can check your competitor's meta descriptions by using SEOptimer's free Meta Description Checker tool.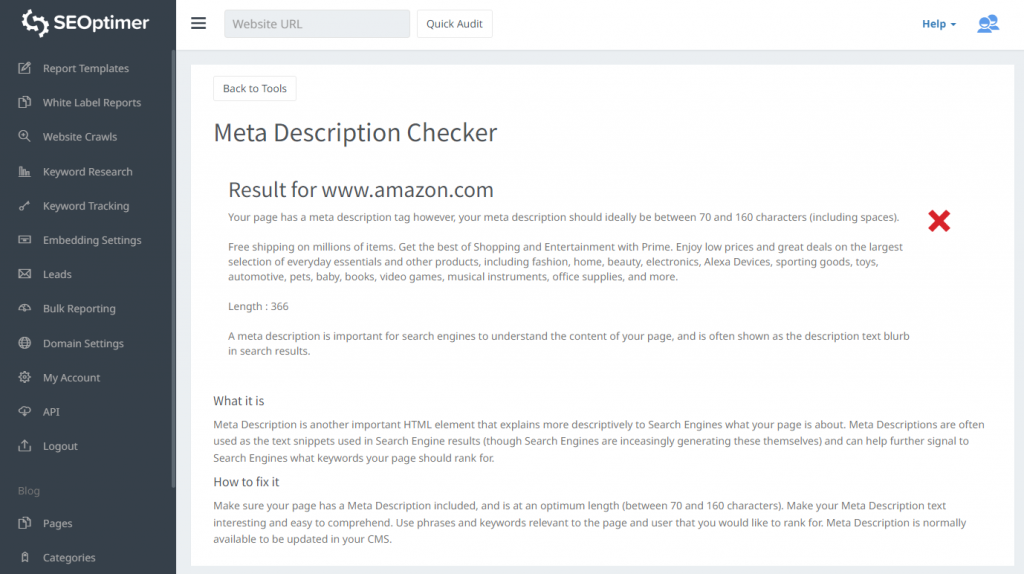 Write Unique and Relevant Meta Descriptions for Each Page
You should also avoid using the same meta description for each page and try to write meta descriptions that are specific to individual pages. 
Also, do not copy and paste the first paragraph of your blog post or news. Most CMS or plugins will automatically add the first few characters in your meta description tag—you will want to avoid doing this.
You also don't have to write meta descriptions using complete sentences. 
Relevant information can consist of facts that provide structured and/or additional content for the page. For a news or a blog posting, you can list the author, date of publication or byline information, all of which might not be displayed in the snippet otherwise.
Likewise, eCommerce companies can add product information such as price, manufacturer, product features, etc. to a product page's meta description.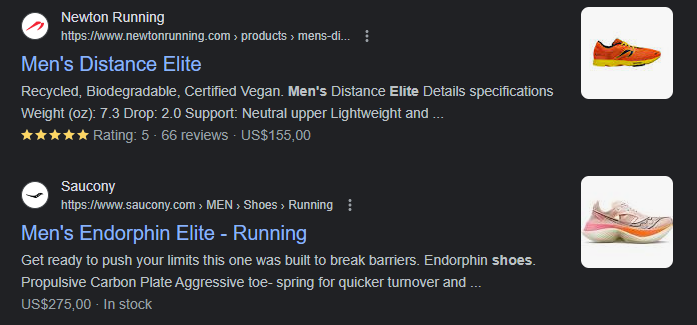 Keep Meta Descriptions Up to 155 Characters
There are no hard and fast rules about the length of meta descriptions, although there is no limit to how long they can be.
Snippets will be limited in length depending on what device the user is searching from, and because Google is continually refining what it thinks is the right amount of text to show.
Google announced in 2017 that it will show up to 320 characters on SERP. However, in 2018, they reduced the length to 155 and explained:
Our search snippets are now shorter on average than in recent weeks, though slightly longer than before a change we made last December. There is no fixed length for snippets. Length varies based on what our systems deem to be most useful.

— Danny Sullivan (@dannysullivan) May 14, 2018
The most important thing to remember is that the length of the snippets is dynamic, based on results and typically fits the width of the device being used.
A good meta description should bring all the information necessary for both users and search engines. It's about bringing all the data about the content and presenting it in a way so that search engines can quickly provide the best search results to users.
Are Meta Descriptions a Google Ranking Factor?
No, meta descriptions aren't part of Google's ranking algorithm. 
Outdated SEO advice will tell you that your page's meta descriptions have a direct impact on search engine rankings and performance. 
In the past, search engines looked for keywords in the meta description and would promote the result if it matched the search engine query. 
This is simply not true anymore.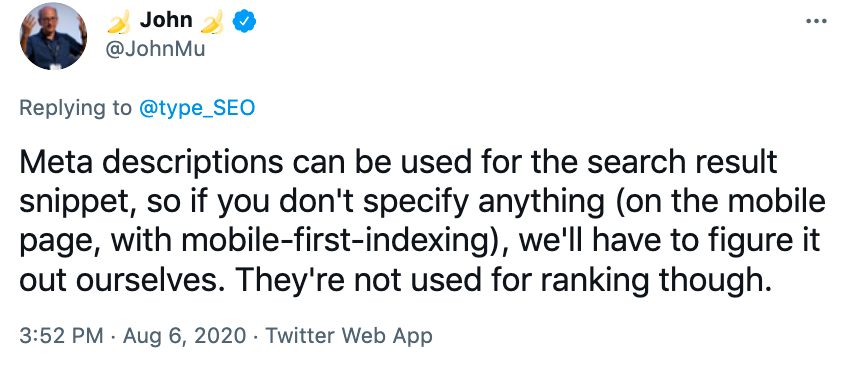 With that being said, well-written meta descriptions that prompt users to click on your result have a positive impact on your organic click-through rate (CTR). A high CTR tells Google that users are finding your information useful, leading to a good user experience.
And since one of Google's core missions is to promote pages that provide a good user experience, they may promote your page in the SERPs.
To sum up, meta descriptions have no direct impact on SEO. However, you should not neglect meta descriptions since they could have an indirect impact on your Google rankings. 
Why isn't Google Using My Meta Description?
A meta description ideally describes what content the page contains and what users can expect to see. 
Website owners should add their own meta description for each page, however, sometimes Google doesn't use the meta description that was originally created. 
If your meta description text does a good job of matching the user's query, then it's likely that Google will use it in the SERPs. 
Remember, Google's priority is to provide accurate snippets that best match the search query. 
However, if your meta description does not follow Google's guidelines or doesn't accurately describe the contents of the page, then Google will likely create a snippet of their own to show in the SERPs.
This auto-generated snippet will be based on the results gathered from your content within the page.
Furthermore, the snippet that Google shows to users will depend on the search query that was used. 
Here's an example of how Google changes the page's description according to the search query.
If you search for the keywords "how many seo keywords per page", you'll get the following search result from SEOptimer:

The meta description for this blog article is, "In this article, you will learn how many SEO keywords you should target on each page of your website. Briefly, you should try targeting only one keyword per page, with 2 to 3 close variations thereof."
Take note of the search snippet that Google has generated for the SERPS, it is slightly different to the one that we set for the article. 
Now, take a look at the search snippet that Google uses when you search for the keywords "how many keywords to add to a page".

As you can see in both instances, Google changes the snippet even though the search queries are very similar. 
Wrapping Up
Although meta descriptions don't have a direct impact on search engine rankings, they should not be neglected. 
Well-written meta descriptions have the power to improve your organic click through rate (CTR), thereby increasing traffic to your website. 
Follow the best practices that we've outlined in this article to write good meta descriptions.