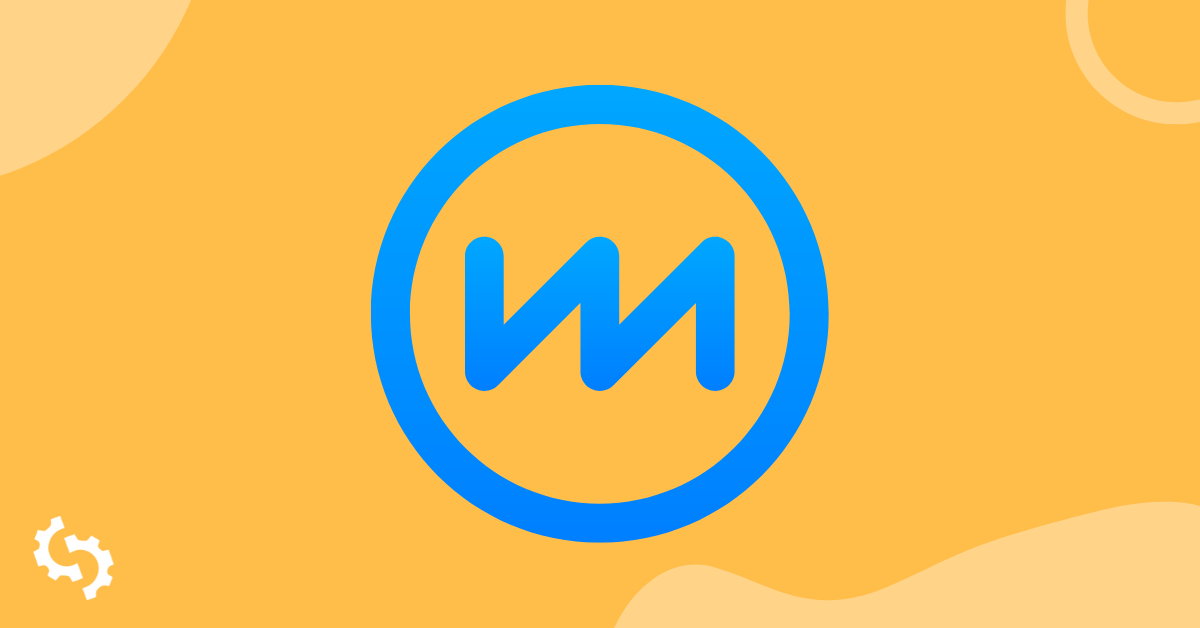 Digital agencies are our main customer type here at SEOptimer. Over the years we've enjoyed talking with some of our 1,500 customers, hearing their origin and growth stories, learning more about their pain points and sharing in their successes. So much so that we're starting an agency founder interview series here on our blog.
We believe this will grow over time to be a great resource for digital agencies all around the world, learning together from other agency founders about how they started their agency, tactics for agency growth, lead generation, conversion strategies, client management and of course SEO. Our goal is to share these inspiring stories from agency founders and open-source the strategies they used to succeed.
Interview with WebMarketers
WebMarketers is a highly successful Canadian digital agency founded in 2013. Today the agency manages over 100 clients with a 20-person team over 3 locations in Canada. I had the pleasure of chatting with their Co-Founder and CEO, Kyle Smendziuk.
Listen to the full interview (18mins) below or jump to the interview transcript:
A true entrepreneur, Kyle started his first business at the age of 11.
"I was a pretty bold and eager kid, I went door-knocking to get my first customers for a lawn care and maintenance business."
Making $30-40 an hour in his spare time was lucrative in primary school and he was quickly inspired by the potential of being a business owner. It was hard work as a kid but he learnt about being consistent and developed a good work ethic. Kyle always set goals about what he wanted to achieve with the money he earnt. Before going to university he paid his way through flight school and got his pilot license.
Although he thought he was on a career trajectory into aviation he landed a coveted basketball scholarship at Carlton University in Ottawa, the best college basketball team.
During his last year of university though, Kyle's passion for entrepreneurship returned and he went into business with his brother who was a DJ. Kyle was responsible for building leads and growing their DJ business. He quickly found that digital marketing was indispensable for lead generation and overall business growth.
He fell in love with digital, ended up freelancing and then started WebMarketers with his childhood friend Dave Kachaniwsky in 2013.
"I've always had very big dreams and goals and I still do. I think we're just scratching the surface of where we could be."
During the first three years of WebMarketers, Kyle and his team always delivered 3x more than what they were paid for, adamant that they needed to build their portfolio, results and case studies.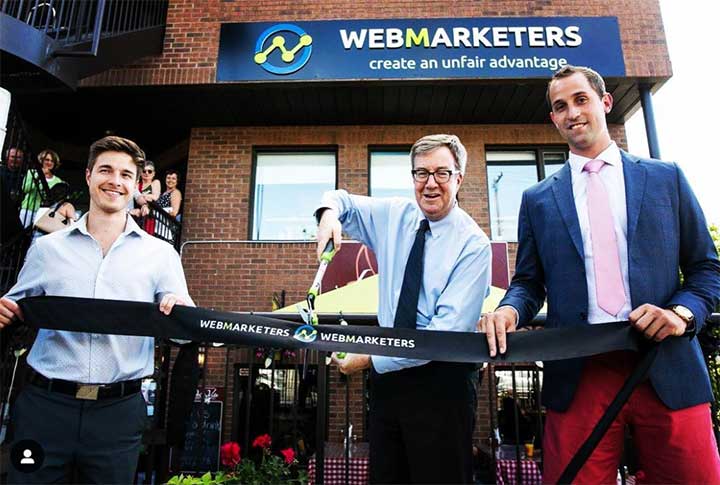 It's difficult to be truly unique against countless other agencies vying for the same pool of local customers - a universal truth agency owners can attest to.
"Truth be told, for the first five years you just take any clients you can to grow your business and make sure there's money coming in."
They started building stand-alone lead generation sites, getting them ranked and generating leads for various service needs. The goal was to either sell these sites to clients who wanted leads or if they didn't have the money upfront; sell the leads directly to clients and retain the lead gen site.
They found this approach was a good way to start conversations with potential customers but ended up settling back on the more traditional approach of building websites, then supporting them with an ongoing monthly contract for marketing activities.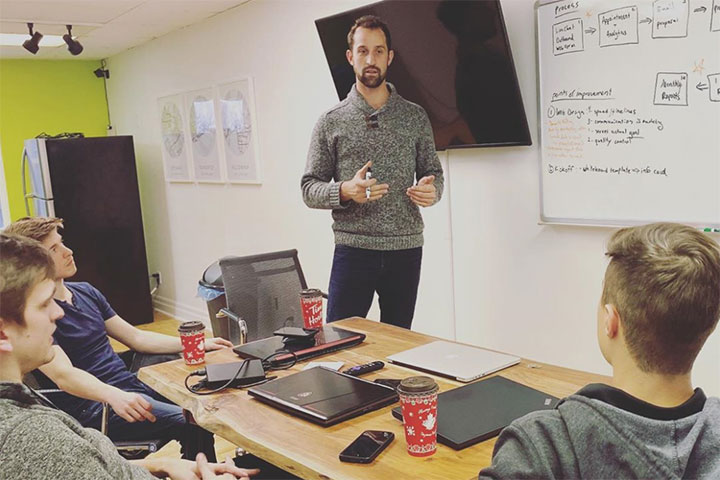 WebMarketers works exclusively for service businesses. In particular, they serve at least a dozen dental clinics. Over time, they've learnt the nuances of that industry, built relationships and successfully leveraged word of mouth referral business.
"If potential clients can see real results for others in their industry - as long as they can see that and they like you, you'll likely win their business."
As COVID-19 lockdowns began in Canada, WebMarketers reacted swiftly by shifting their sales processes completely online. Fortunately, they could rely on a large email database built up over the years. Kyle promoted weekly webinars to business owners struggling with the new reality of online commerce and lead generation.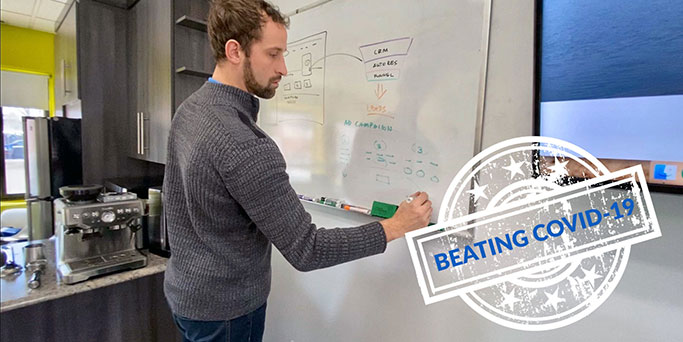 These webinars helped business owners through the uncertainty and actually generated new business for WebMarketers too. It also enabled the agency to fully operationalize a fully digital end-to-end sales process.
"We saw three or four years of change in terms of people embracing and adapting to digital, happen in the space of three or four months."
What WebMarketers achieved during the pandemic was a testament to their focus on delivering value upfront to business owners during a time of risk and uncertainty. This strategy paid off and just in the last 60 days, WebMarketers has seen an incredible 40% growth.
WebMarketers run one of the most innovative agency sales processes I've seen. The way they prospect, qualify and nurture their leads into new business is truly impressive. It all comes down to way its framed.
"Our sales processes are pseudo-strategy sessions for clients. We do screen recordings and videos to walkthrough their site and explain to them about how things work and what they should do to improve."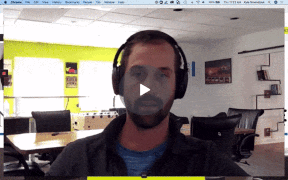 Kyle and his team use Loom to quickly record these short videos which mix screen recordings with webcam footage of a consultant talking about specific problems on the site and how things can be improved.
"We use your software very relentlessly, we probably send out 5 to 10 thousand emails a month. The reporting is the main carrot that we dangle in terms of value."
For WebMarketers, the best sales strategy is not to book as many sales calls as possible but instead use email lead gen with SEO reports to generate interest. Once these emails are sent, they monitor opens, clicks, replies and any engagement on the email. Then the prospect moves down the funnel and they record the quick 5 min Loom video. Once the video is sent, the keep the email comms and engagement going. At that point, the prospect has a very high rate of conversion to a new business call.
Looking to the future, Kyle and Dave have grappled with the reality facing most agencies - they build great sites and execute great marketing campaigns however they don't technically own any unique IP. So to address this, WebMarketers have been working hard on their next chapter. In 2021 they plan to launch an MVP of their new all-in-one CMS. An owned piece of IP that WebMarketers clients will be able to utilize. The new system will integrate all the core features of a modern CMS including e-commerce, payment processing, chatbots, AI-driven marketing automation all without the need for third party plugins.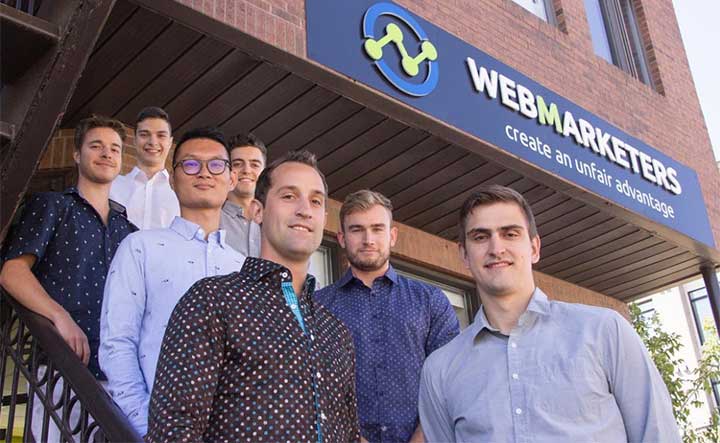 Check out WebMarketers online at webmarketers.ca. Give them a follow on Twitter and Instagram too!
Digital Agency Resources
SEOptimer has plenty of guides for how you can start, grow and optimize your agency's success:
Interview Transcript
Tim: Hey, it's Tim Hill here from SEOptimer. We love talking about all things digital marketing-related, and in particular things that can help digital agencies grow and thrive, since they're our biggest customer group. So today we're speaking with Kyle Smendziuk, co-founder and CEO at WebMarketers, a Canadian digital agency with offices in Ottawa, Toronto, and Kelowna. Since 2013, Kyle's grown the agency to over 20 employees and currently manages over a hundred active clients, so the likes of Pfizer and Carlton University. They've recently invested into an AI-enhanced design platform too, which is really exciting. WebMarketers does it all, from website design to SEO, PPC, social, email, content marketing too. So Kyle, thanks for joining us today.
Kyle: Thanks for having me, Tim. Happy to be here.
Tim: I saw on your profile that you started your first business at the age of 11. Can you tell us what that was? And what you learnt from that journey?
Kyle: I was a pretty bold and eager kid and I went door-knocking and I got my first two lawn care customers for the season. I had a lawn care and maintenance business, which eventually grew, and did everything from aeration, basic landscaping, hedge trimming and lawn care with a select group of customers in the neighborhood I grew up in.
Tim: What did that teach you about business and growth at that very young age?
Kyle: Definitely hard work, because I had to get out there on rainy days, and in between classes and sometimes after school when other people were playing, but to be 12 years old and making 30 or 40 bucks an hour in your free time, it gave me a bit of the inspiration to know what I could do with some of the extra money I was making. It taught me consistency, the work ethic. And I always had a goal each summer that I worked, what I wanted to do with the money, that I wouldn't otherwise be able to do. And my last year doing this before I went off to university, I got my pilot's license, and that was something that was super cool that no-one else was able to do. And so I was proud of what that.
Tim: What about your journey from that point until just before you started WebMarketers, what was your work history like?
Kyle: So I went on a bit of hiatus from business. I was playing basketball at a very high level and got a scholarship for university. So I went to Carlton University here in Ottawa on the scholarship. They're the best team and have been for about 20 years in Canada. So that was really great from a team perspective and just competitive perspective and work ethic, because I was balancing school and sports and social life.
I thought at the time I wanted to go to school and become a pilot. And so I studied aerospace engineering in school, realized that I didn't want to sit at a desk, and wanted to deal with people. So I got into business.
And so my last year of university, my brother had experience and worked as a professional DJ for weddings and private events, and gave me some money as an investment and said, "Hey, I'll be your business partner, here's the money, you go run the business." So that was the first business venture I got into, it was actually a DJ business and that's what brought me into digital, to really answer the questions. I knew digital was important to help me attract customers for that business, that it became my main focus for the business growth, which was pretty successful. And I fell in love with digital from there. And that's where WebMarketers spawned, by accident, if you would say.
Tim: When you were starting out, what were your first steps with WebMarketers?
Kyle: I guess the first few jobs I did in the digital space were things that I just did for business contacts that saw stuff I was doing and just asked for help. So I just did it in my free time. So just freelance contract basis. Then my long, long time childhood friend, that I grew up knowing for a long time, him and I had some conversations, decided to partner and do things together, which was a great decision because we're a good yin and yang. I'm very more entrepreneurial and want to work on the business, he's really more introverted and likes working in the business, he's good with people. So it's been a really good partnership.
Tim: Can you remember that first moment when you got your first clients or client, what was the element that clinched the deal?
Kyle: I guess just pretty aggressive sales pitch and just, they could probably hear from my voice and what I was talking about, just the sheer passion, they wanted to give us a chance. And then mad panic set in, we're like, "Oh shit, okay. We actually have to do this work now. All right. Awesome." And we'd buckle down and we'd get it done, and we'd always, the first three years, we always delivered about three times more than what we were paid for that, adamant that we needed to build our portfolio and our results and case studies. So actually some of our first customers, we still have to this day, which is cool, [crosstalk 00:05:19] this nostalgic feeling when we meet with them, they're like, "Hey, back in the day, it was just Kyle and Dave," and now they walk into our office and they meet seven new people that weren't there the last time. It was neat for them, and it's interesting for us to see the evolution of the relationships too.
Tim: Around about this time in, in 2014, you were 12 months into WebMarketers. I'm interested to know, where did you think the business might be six years later?
Kyle: It's really hard to say. I've always had very big dreams and goals and I still do. I think we're just scratching the surface of where we could be. At that time, we were actually trying to figure out how to be different right? Because once you start getting a little bit of work, you got to figure out, are you going to find a niche and become an expert at that? Truth be told, for the first five years, you just take any business and all business you can, to grow your business and make sure there's money coming in. But we were exploring at that time with lead generation sites. So we went and built a whole bunch of sites ourselves, figuring that that would be an easier way to get customers, if we already had sites that were ranking, getting traffic and generating leads, that we could either sell the site then to them, when it's got proven results or just sell them leads if they didn't have the money upfront. And realized that was a really good way to start conversations and get people talking to you, but they ultimately wanted to own things.
And we ended up settling back more on the traditional model of built the site, do the work upfront and then support them with an ongoing monthly contract for the marketing side of things.
Tim: You actually serve particular industries, right? You focus on certain kinds of niches?
Kyle: Yeah, we do now. Yeah. So we only deal service businesses. So in a general sense, that's who we go after. So not really anything in the eCommerce world. And one of our main focuses is dental markets. So we have probably, I'd say, at least a dozen dental clients, and that's the main area of focus for us. We just know that space well. And once you learn the language and the jargon and stuff, things grow. You get word of mouth referrals from those customers to other dentists, things just grow for you, which is nice.
Tim: What is it about those niches? Is it unique needs that they have, or what would you say?
Kyle: To be honest, I find any customer, when they realize that you've got experience in the industry, that's the main magnetic draw for them is just to see real results for someone else that's the same business. And that gets them bought in. Typically it's the same structure and the same processes you're going to follow. So they can see that you've done it for someone else, then they believe that they can do it for you. And as long as they like you, you'll typically get some sort of a deal out of it.
Tim: Now in the current climate, Coronavirus has changed a lot of businesses and whole industries. What have you done with WebMarketers as a result of what's happened in the last year or so?
Kyle: The first two weeks, mad panic, didn't really know, you'd go through an hour of sitting on your hands, just waiting, hoping that things wouldn't be more than a week or two long, and then you realized they were. And so I just did everything and anything. I started shifting all of our sales online. We fortunately had a pretty big email list, and the first thing I did was say, "Hey, I watched the news." I stayed on top of all the government grants, the funding, all the things that people need to do to adapt. And I sent out an email blast and hosted webinars for the first, on a weekly basis, for everyone that I could get on, to help coach them on what to do. And that actually even helped us bring in clients when people were very uncertain of the future.
But more so, it allowed us to solidify the fact that a lot of business development and sales that would have otherwise been done in person before, in meetings, could be done digitally. And I always say we saw three or four years of change in terms of people embracing and adapting digital in three or four months.
And I guess, fortunately for us, we already had some grassroots structure from when we used to operate with everyone as a contractor, we had everything set up so that everyone could work from anywhere at any point on their own terms, and software and infrastructure for that, which really didn't cause too much of a hiccup for us, fortunately.
And then as COVID came to an end and things got back to normal, gave us a head start. We've seen about 40% growth in the last 60 days, just coming out of COVID, so fortunate for that, but definitely not, it's still, foot on the gas, right? And that's why we've taken the opportunity to make some of these investments into the way of the future, which is going to be a better CMS, and better engagement and chatbots and AI, which is the direction that a lot of technology is going to go for small business.
Tim: On that point, I was really interested to hear about what investment that WebMarketers is making into this area. Can you tell us more about that?
Kyle: It's a longer-term contact of mine that I had in the industry, ran a complimentary industry, and put me in touch with someone else in the area that happened to have had a fairly large investment into the technology, but had shelved it, and given the nature of our existing agency and access to clients and getting it out, WebMarketers decided to come in and take a role on finalization of the software, the design, the implementation, take a lead on the sales. So it was a really good relationship in terms of what they brought to the table, and what we could do for it.
But my business partner, Dave, and I have always said, "Okay, well, we're building great stuff off WordPress, we're managing good marketing campaigns, but we don't technically own any of the IP, the material. There's not one piece of software that we bring to a client that they couldn't access on their own." And for us to really come to them with a differentiating value, we knew that we wanted to create a platform that would allow people to not only market themselves and generate leads, but manage those leads. The email was the automations, and eliminate all the third parties, like the live chats that we tap into, the CRMs, active campaign, the email software, the eCommerce integrations and payment processing, and bring all these things under one roof, with a more secure, robust, one-stop shop software technology for our clients.
So that's what we're in the works of doing now. And it's exciting, early 2021, we should have an MVP product on the markets that we're rolling out on a more public basis.
Tim: That sounds amazing. What plan do you have of communicating the benefits of that to the end customer?
Kyle: I think a lot of it is just being able to explain to them. Our sales and the growth has never been, "Have a sales team and just do sales," it's always been through educational approach of, "People have problems. Let me show you how to solve those problems." So we do in our sales process, we'll do pseudo strategies for businesses. We'll do screen recordings and videos, walking them through their problem, and what our solution is, and actually explaining to them how it works, to get their buy-in to how we do things. So I think in terms of, "How are we going to target customers?" That solves the problem for us, just look for people that are looking for the problem, and get ourselves in the right spot at the right time, explaining things and educating them on how we solve it, and start the conversation that way.
Tim: I love that strategy that you use, using video and recording these screen sessions with the clients, walking through their own digital assets, their website. And I imagine that that's highly effective. How did you start doing that?
Kyle: It's a shameless plug for you guys, but we use your software very relentlessly, probably send out five or 10,000 emails a month, where your software and the reporting that we built it into the process, is the main carrot that we dangle for them in terms of value. And I find the software very comprehensive, and it's a great starting point, obviously nothing replaces an expert human review. So we use your guys' analysis as a great way to show that we're all about value and showing results and helping them. And then when we see that they engage with those emails, whether they click on the link to the report, they respond, or whatever we follow up with a call. Then we know that they're well-positioned then to get us to come in and provide the more human approach of, "Okay, well, how does that actually apply to you?"
So this is a great binary analysis of, "Are you doing things well, or are you not?"on a very detailed level of 300 plus things, but beyond just, "Are you doing them or not?" "Are you doing them well, how should you be doing them? How does that tie into your industry and your goals, and the problems that you have, and whatnot, and how are you going to solve it?"
So that's what actually led, it was your guys' software that led us to saying, "Okay, well, the easiest way for us is not to book a call, it's to see that you're interested, record you a quick five-minute video, send you that video and keep that good email engagement going," because they will call at a very high rate after they see that video.
Tim: I think that's such a great way to qualify leads, and identify that engagement and interest that they have. What is it about clients and their businesses that make them successful? What are their traits, I guess?
Kyle: I think the biggest thing for customers is being real, being personalized, having real pictures and video, and then showing and not telling. Too many people rely on, "I can do this for you, I promise," or, "I'll do it for you, blah, blah, blah, blah." Instead of telling them what you can do, just show them what you've done, and let people buy into, what are you showing on your Instagram feed? What's your portfolio and your website, in terms of before and afters, look like? What are your client case studies, testimonials, show me some white papers, walk me through it, and the right customers now for higher-value services, which is what we target, are looking for that more comprehensive information and experience.
And a large focus for myself, and my passion, is on the psychology of what people do and why they do it. And so when we build sites, now, we know there's seven psychological factors in terms of the structure that a site needs to have, or a page needs to have that's a destination for an ad, and we make sure we bring the seven things to that page, and then just design it and organize it differently to represent each person's brand appropriately.
Tim: I'd be remiss to not ask you around SEO trends. There's been a lot of news recently, lots of updates rolling out on Google. I guess, with all the constant updates that happen in the world of SEO, what are the things that you come back to, or I guess, what are the tried and true strategies that you explain to your clients?
Kyle: Content. Making sure that, we've got some little tips and tricks and hacks, like making sure that every service that you offer, you have a unique page for, and that page can stand alone as an actual landing page, if you're running an ad campaign to it. That service page should also have the service regions you service, which is a great way to get the regions, and the service itself, and the keywords, together on a page. So when people search for, let's say it's cosmetic dentistry, you're not just showing up for cosmetic dentistry in the main city, but maybe that micro region, or that neighborhood, that they might be searching. A lot of people now search on a very micro, specific level. And so when you're the only website that happens to have content on that specific level, you can capture a lot of search very quickly and easily, that no one else is really competing on.
Tim: Thank you so much for your time today. You can visit WebMarketers online webmarketers.ca, follow them on Instagram @WebMarketers, or Twitter @TheWebMarketers. Join us next time, when we chat with another agency founder and chat about starting and growing their digital agency. I'm Tim from SEOptimer, and thanks for tuning in.