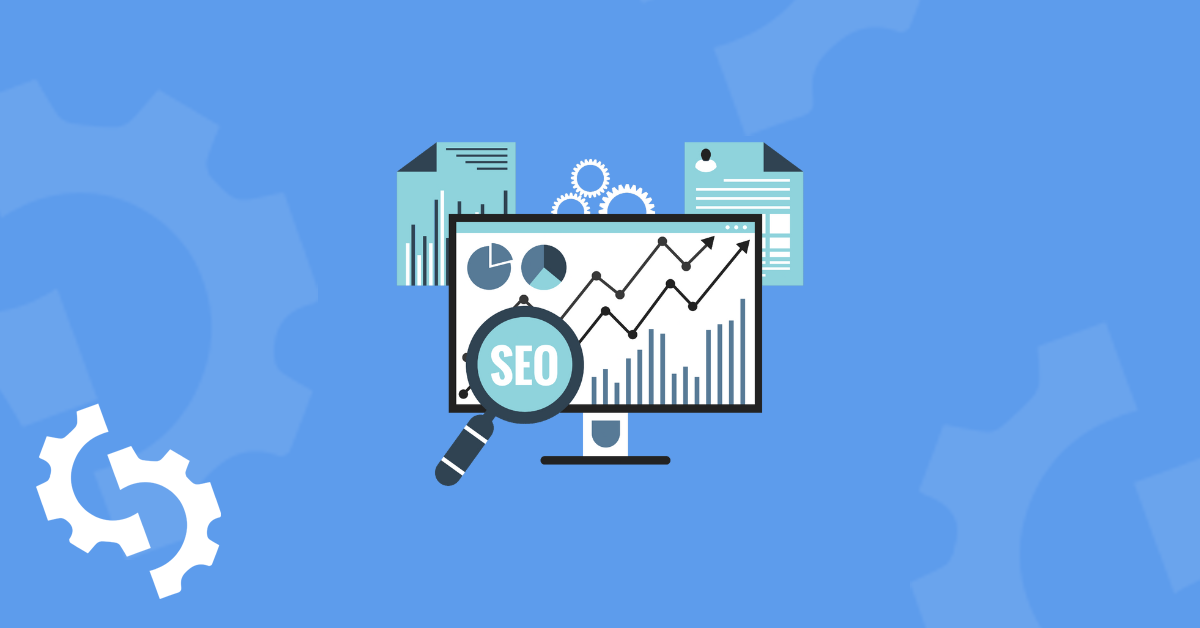 Creating SEO reports for clients is an important task for any digital agency. Your clients need to understand the value of your services and how it tangibly benefits their business. They need to see how SEO performance is improving week-on-week and month-on-month.
The great thing about SEO is there's no ambiguity about performance – organic traffic and search rankings either improve over time or they don't. More traffic equals more leads, more sales, and more conversions.
The work you do can literally transform a client's business.
SEO reports are also a key client retention tool. Insightful reporting will build trust and grow credibility with your client. The aim is to be less of a service provider and more of a trusted partner. High-quality reporting can help enhance your client relationship.
Is there such a thing as the perfect client SEO report?
There are certainly some fundamental aspects that every SEO report should contain. But that's just half the job. The other half is communicating and prioritizing what SEO insights are the most actionable based on the client's business and current situation. It all comes down to context.
Why is SEO Reporting Important for Agencies?
As any SEO marketing agency knows, it takes time for the results of your work to manifest.
SEO reporting is important because it gives you the opportunity to showcase the results that you've obtained for your client. An SEO report will highlight weekly or monthly improvements, as well as give further recommendations on how to improve rankings and performance.
This is essential because it gives the client peace of mind that they're actually getting results in exchange for the monthly costs of hiring your agency.
Fundamental SEO Report Sections
Consider these 8 fundamental SEO report concepts as mandatory:
1. Report Branding and Layout
Don't underestimate the importance of how your report looks and what effect it has on how your client interprets it. Your SEO report should appear consistent with your agency's branding.
To maintain a strong brand presence for your agency, you should white label all reports (not just SEO reports) and ensure the basics like logo, fonts, colors, and styles are consistent with your agency's brand identity.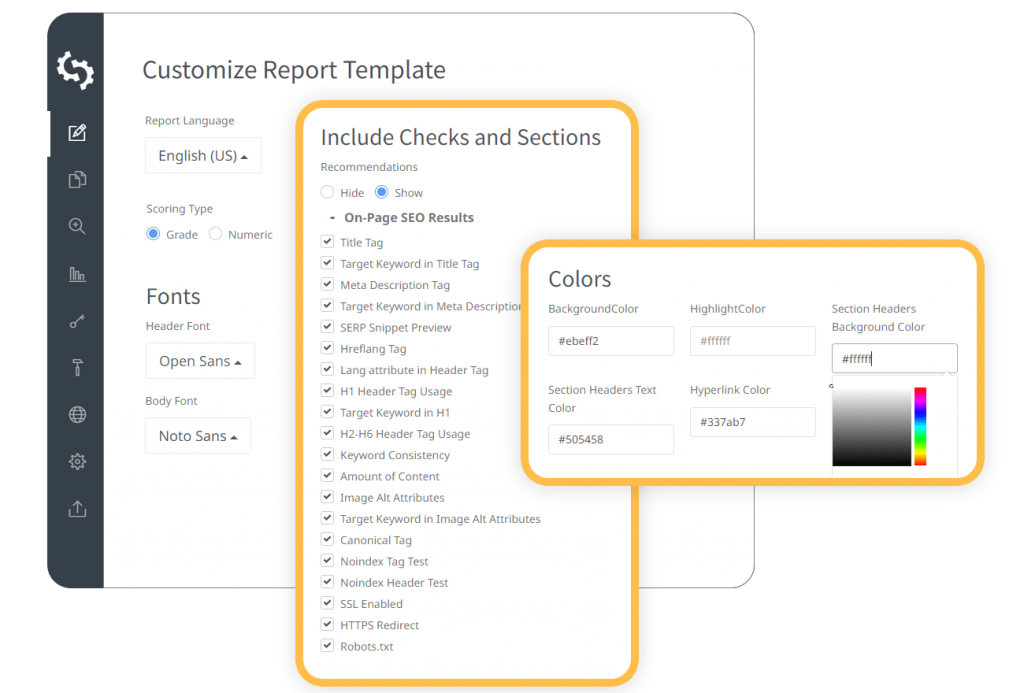 The layout should be optimized for how you intend to deliver the report. If you're sending the report via email, it needs to be scannable with descriptive titles that state facts.
For example, instead of a page title "Organic Traffic Summary this Month", a better title would be: "Organic Traffic Increased 45% this Month".
When your client receives your report via email, they will likely scroll quickly and skim-read the largest text on the page.
Any visuals such as charts or graphs need to make sense within a few seconds or they won't be understood.
The classic "up and to the right" chart is the universal visual signal for "this metric is going well". If you're presenting the report in person or via Zoom, descriptive titles in the report are less important as the client will be more focused on you and what you're saying.
So the report serves as a visual aid and needs to illustrate and back up what you're saying. Rely on charts and graphs to do this as they'll likely be on screen for longer. Explain what they mean and help your client understand how it directly applies to their business objectives (ie: sales, leads, conversions, etc).
If you share SEO reports via a link (instead of sending a PDF file), you should also ensure the URL, browser Favicon, and page title are white labeled too.
See the example below: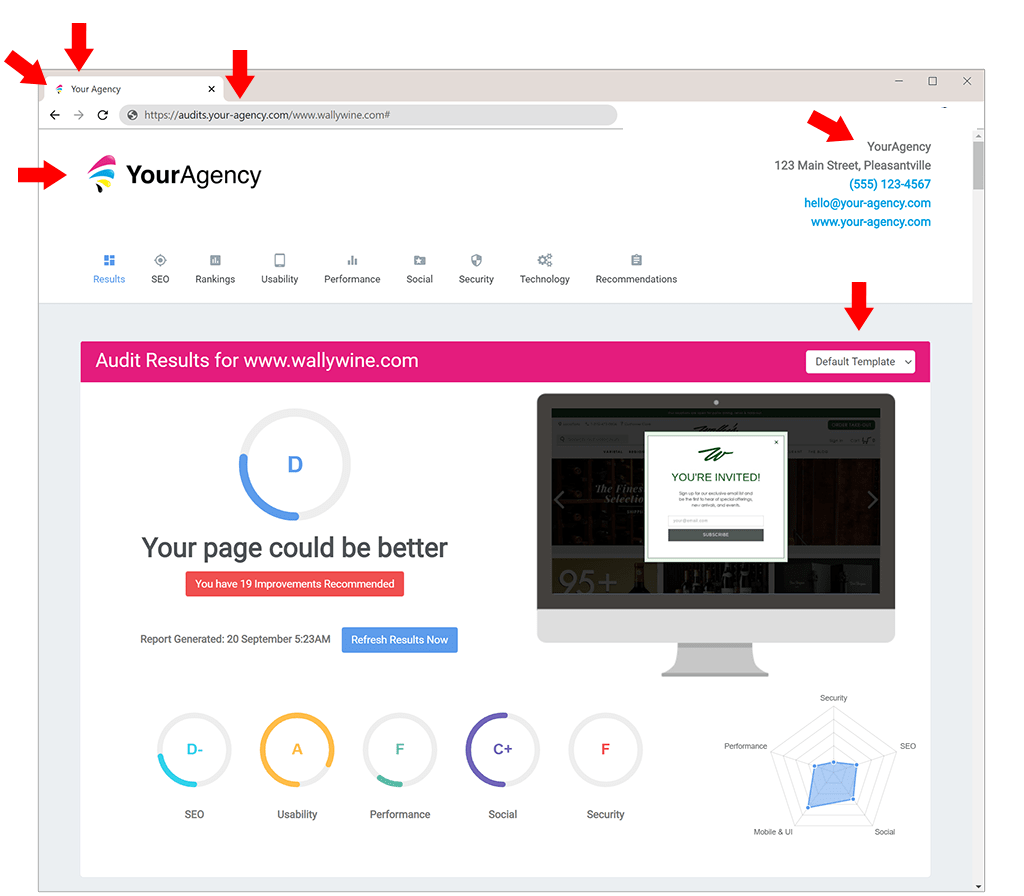 Creating a consistent and integrated experience across all your agency's "digital assets" not only looks professional but shows your client you care about the finer details.
If you're stuck on defining your agency's branding, check out Vendasta's guide for creating a strong brand identity for your agency.
Their 7-step process includes:
Set a Mission Statement
Design your Culture
Humanize your Brand to choose an audience
Understand your Value Proposition
Brand Identity 101 - develop "the look"
Implement a Style Guide
Brand your Touchpoints
2. Executive Summary
If the client only reads 1 page of the report - this should be it. The purpose of the Executive Summary is to provide a top-level progress report on the site's SEO performance and how it pertains to the client's business objective(s). Less is more so don't clutter this page.
Focus on the metrics the client cares about most. If you're not sure what they are - ask your client! If they're not sure, agree on some metrics together. Include a summary of activities, what worked well, and the adjustments you'll make for next month based on insights. Some or all of these can alternatively be included on separate pages. The overall purpose of the Executive Summary is to communicate ROI (Return on Investment) to your client.
3. SEO Metrics Dashboard
The Metrics Dashboard is a 1-page view of the agreed KPIs, targets, and supporting metrics together with comparisons vs the previous time period. This will include charts, graphs, numbers, and totals.
Optimize for clarity by using visual language – if charts are pointing upwards and to the right this is ideal!
Use red/green arrows to communicate progress at the metric level and use callout bubbles to direct attention to key points on the page. It's also a great idea to use a scoring system like a grade scale (A to F) or a number scale (0 – 100) to summarize the performance of each report section.
4. Traffic and Conversion Trends
Check Google Search Console for organic queries, search impressions, and clicks for each page. Also check Google Analytics, segment by organic traffic, and note down traffic and conversion trends.
These stats are important since they are the ultimate result of your hard work and drive the client's business objectives.
5. Keyword Rankings
Use SEOptimer's keyword tracking tool to monitor the way keyword rankings change over time as well. View the estimated search volume and competition on each keyword.
You should ensure your client's target keywords are set up in the keyword tool when you first kick off with them. That way, the rankings evolution history is maintained in SEOptimer.
There's nothing like sharing the moment a particular keyword ranks in position 1 with your client! Doing so within the context of the report helps build client loyalty through the success of your efforts!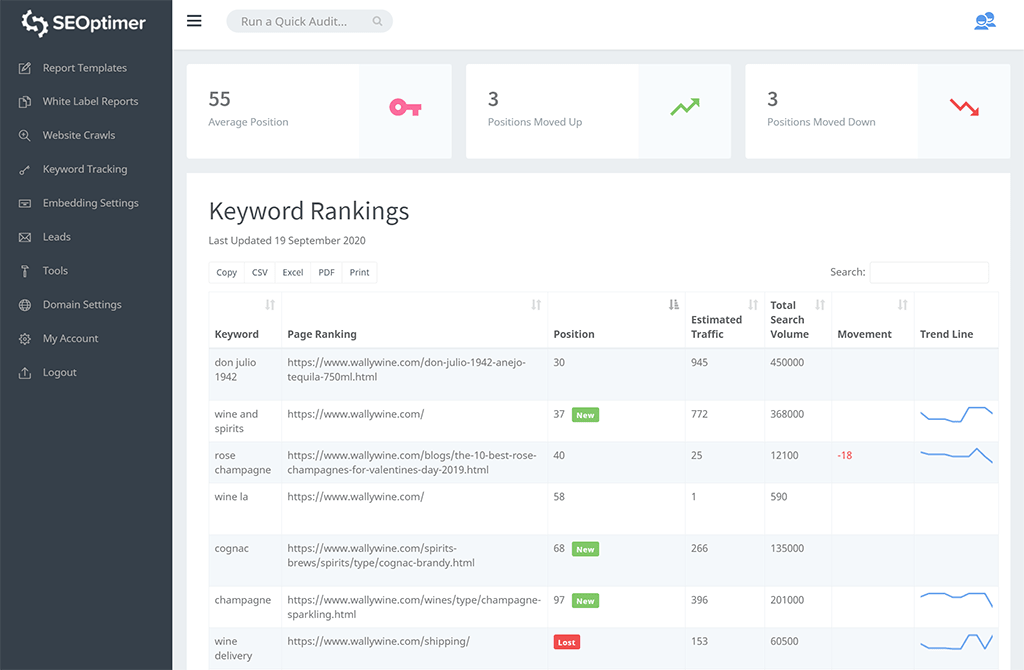 6. Backlinks
Include a list of the new backlinks gained and any backlinks which were lost (soon you'll be able to see the actual backlink URLs in SEOptimer, stay tuned for this feature).
If part of your SEO services includes building backlinks and blogger/publisher outreach – this will be an important section for you to help communicate the value of your efforts.
Ensure you correlate new backlinks with improved search rankings and/or an increase in organic traffic.
7. On-Page SEO
Improving a website's on-page SEO is a key component of any search engine optimization campaign.
As a result, you should have a section in your SEO report that gives feedback on various on-page SEO elements, including:
PageSpeed

Core Web Vitals

Alt and header tags

Usage of the target keyword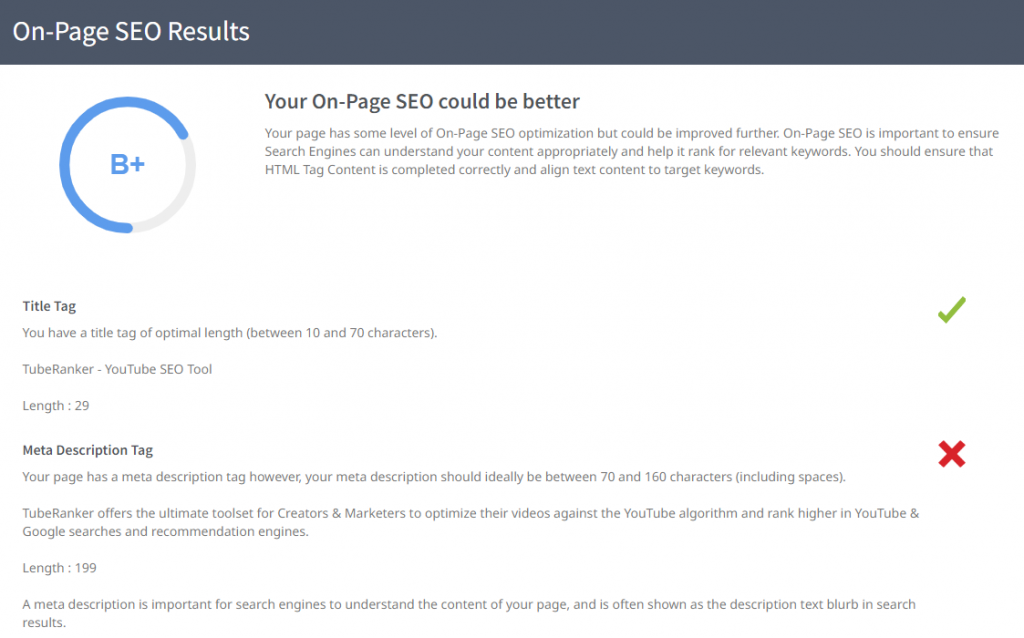 8. Insights and Recommendations
The final SEO report section should include your interpretation of the data and actionable insights.
Typically agencies use a "START, STOP, CONTINUE" summary which lists what actions and processes you'll start doing, what you'll stop doing, and what you'll continue to do – all based on data insights.
How Regularly Should You Send SEO Reports to Clients?
This question always comes up when thinking of SEO reports for clients. And while there is no concrete answer to this question, there are a few things to consider when making your final decision.
Firstly, your clients are already busy, so you don't want to inundate them with lengthy SEO reports on a regular basis. They'll most likely not even read your reports if you send them too close to one another.
Secondly, SEO takes time before your client will see the benefit and the increase in traffic or leads. As a result, you want to avoid sending them reports too regularly since you won't have much to show.
By sending SEO reports to clients on a monthly or even a 6-week basis, you'll be able to showcase results better than if you were to send reports on a weekly interval.
The best time to send these reports is perhaps a day or two before your monthly "catch-up" sessions so that they have ample time to read through the report before the meeting. This gives them the chance to see what you've been doing since the last session, and how their site's performance has improved.
By sending the report a few days before the meeting, the client will also have enough time to think of any questions they might have about performance and work being done.
Customizing SEO Reports for Client Preferences
When it comes to SEO reports for clients, you'll likely need a collection of different report templates to suit different clients.
Several factors can affect the way you structure the content and layout.
These include your client's industry, business stage, objectives, and other subjective factors like the relationship you have with them, their level of knowledge, and their layout preferences. Some clients are skimmers and prioritize brevity over detail.
Other clients like to pour over results, read everything and get into the finer details.
These different styles can greatly influence the way clients interpret your reports and retain information. Knowing this upfront and optimizing for this will set your reports up for success!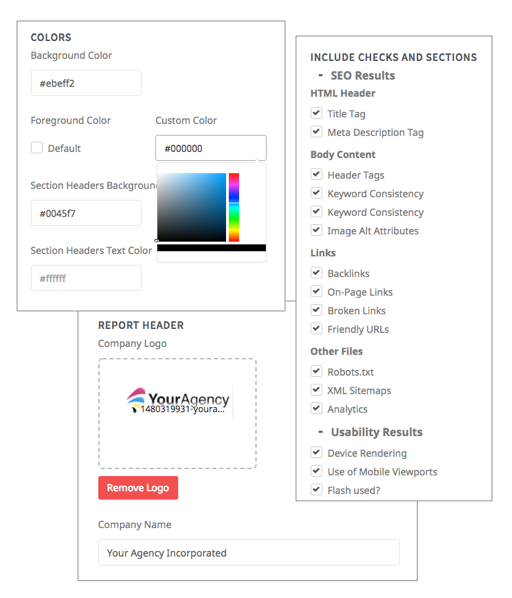 Report Delivery Format
Content aside, you should consider the following report delivery formats:
Acrobat PDF: this is by far the most popular report format and for good reason. PDFs are easily shareable, compatible on all devices and generally low in filesize
Live link: a live link opens a web-based report in the client's browser, usually a Dashboard. The advantage of this is the report can be interactive and display certain data based on filters and user input
Email: the report is delivered entirely in the body of the email, this means it needs to be quite simple and short. No need for attachments or links
Zoom/screenshare: some agencies deliver their reports over screenshare but they also usually send through a PDF version of the report too. When screensharing, using a presentation tool like PowerPoint or Slides may be preferable
Report Length
The report length will determine the level of detail you go to on your reports.
We recommend showing your client a default report template to start with. Go through it together and highlight the things they like and don't like.
That way you can make modifications to the report that you know satisfy their expectations.
Stakeholders
You should also ask your client what they do with the report once they receive it.
Do they forward it to other members of their team?
If so, these other team members might have completely different expectations of what the report should contain. This is actually quite common. So it's important to identify all the stakeholders upfront and cater to everyone's needs, especially if these other stakeholders are more senior.
This might mean sending multiple report versions (eg: one report for the CMO and one report for the Digital Marketing Manager).
This might sound like a lot of work but you can set up and automate multiple report templates with ease in SEOptimer!
Customizing SEO Reports for Different Contexts
Keep in mind, SEO reports should always communicate the ROI of your SEO activities.
But to do this effectively you may need to tweak the layout and content based on the following different contexts:
Client Monthly/Quarterly Review
Known as "business as usual" (BAU), this report cadence is usually monthly but can also be fortnightly or quarterly. The report format usually stays the same each time. Brent Csutoras from Search Engine Journal recommends you use tracking to ensure the client is actually opening and reading reports. If not, this can be good indicator of churn risk.
Expanding Client Account
If you believe there's an opportunity to expand the client account into adjacent services or a higher level of output, it's worth using monthly reports to illustrate potential opportunities.
For example, you could build a case to supplement organic search traffic to the client's site with paid search.
By analyzing paid keywords cost and competition you could include speculative paid search strategies at the end of the report as a tactic to trial for a period of time.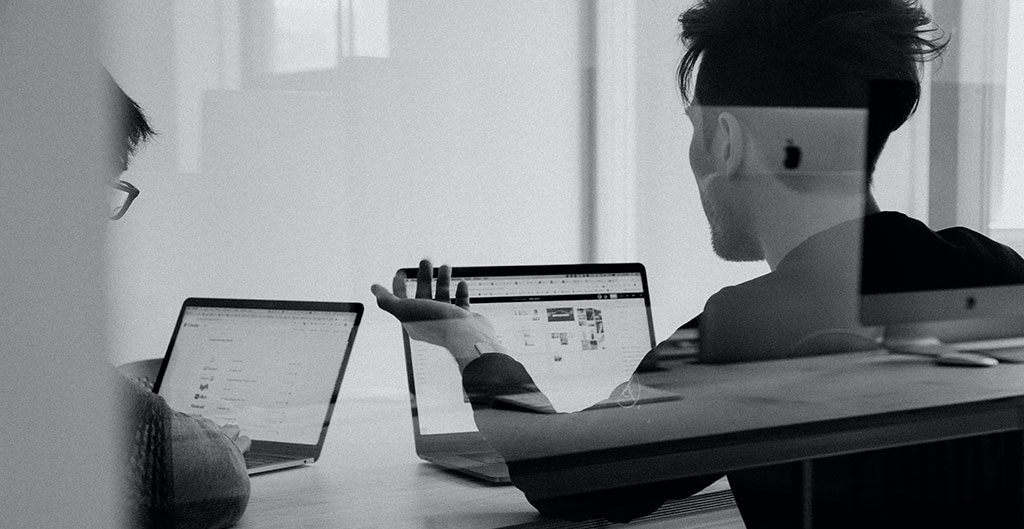 Preventing Client Churn
There are many factors that contribute to client churn.
But perhaps the two biggest factors are: approaching the end of a contract up for renewal and a change of personnel on the client side.
Both scenarios provide opportune times for clients to end contracts with their incumbent agency. If either of these two situations are on the horizon it could be advantageous to use monthly reporting to identify a market opportunity that requires a separate project to fully leverage.
This separate stream of work would have its own timeline stretching beyond the contract renewal date. Once the value is realized on two concurrent projects it can help bolster the argument for renewing the original service contract.
Winning Back Churned Clients
While you wouldn't continue sending reports every month, it may be worth casually checking in with churned customers 6 and 12 months after they churned.
You can continue to monitor their SEO performance and if you see declines in search rankings or new issues appear on their site, this can be a great reason to re-engage with a churned client and remind them how good you are, picking up issues proactively.
New Business SEO Report
More often than not, you may find the time between the initial client meeting/pitch to the decision can take many weeks or even many months.
Some agencies use this time to showcase and reiterate the value they would provide if they win the work.
Providing short monthly reports to leads and prospective clients that identify opportunities and any potential issues, can help swing things in your favor if the playing field is tight and especially if the client is under no internal pressure to make a decision quickly.
How to Automatically Send SEO Reports to Clients
All this talk of multiple templates and report contexts may have you thinking it takes many hours to create all these reports but don't worry, you can automate all your SEO reports for clients with SEOptimer.
Our White Label SEO audit reports make it easy to create multiple templates and customize the level of detail in each one.
The level of customization is endless with users being able to change report colors, fonts, text, and more.
Our tool will perform more than 100 checks on your client's website and their closest competitors. These checks can be scheduled to run at weekly or monthly intervals, and then be automatically delivered by email to your clients.
Then you can sit back and put your reporting on autopilot.
Your white-labeled reports can be downloaded in a client-ready PDF file plus can also download raw data in CSV.
Create your free 14-day trial account today and sort your SEO reporting for good!